PROJECT DETAILS
Location: 成都市成华区建设南路4号万科天荟5区004商铺
Chief Designer & Team: Ches李嘉豪 | Mojo Wang
CAD Designer: 李艺周
Photography: 邱天
Area: 568㎡
Year: 2019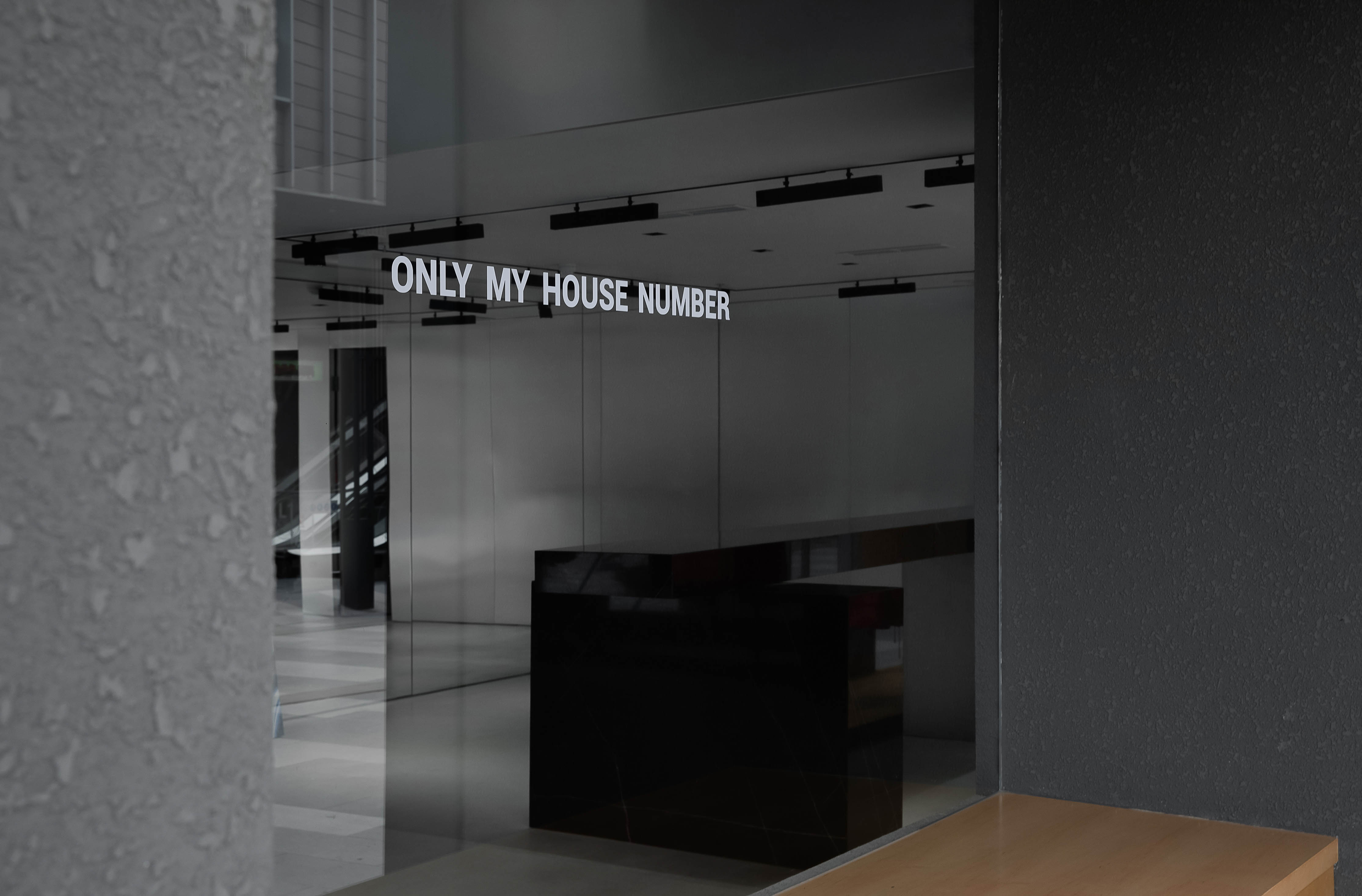 INTRODUCTION | 项目介绍

「1807」成立于2015年,是一家将纯正的美式街头文化融入生活方式的成都本土潮流品牌。除了本身的产品外,店内还有美式BARBERSHOP以及不定期的POP-UP。门店位于万科天荟,紧邻成都东郊记忆音乐公园,是一个历史与创新相互融合的街区。设计团队将街道社区感融入整体设计概念,通过整合新的设计语言及材质搭配,为当今年轻潮流的消费人群提供了一种全新的购物体验。
-
「1807」is founded in 2015, It is a local trend brand in Chengdu that integrates pure American street culture into the lifestyle. In addition to its own products, there are American barbershop and pop-up from in the store. The store is located in VANKE TIANHUI, close to the Eastern Suburb Memory and it is a block integrating history and innovation. The design team integrates the sense of street community into the overall design concept and provides a new shopping experience for the current young trend consumers by integrating the new design language and matching material.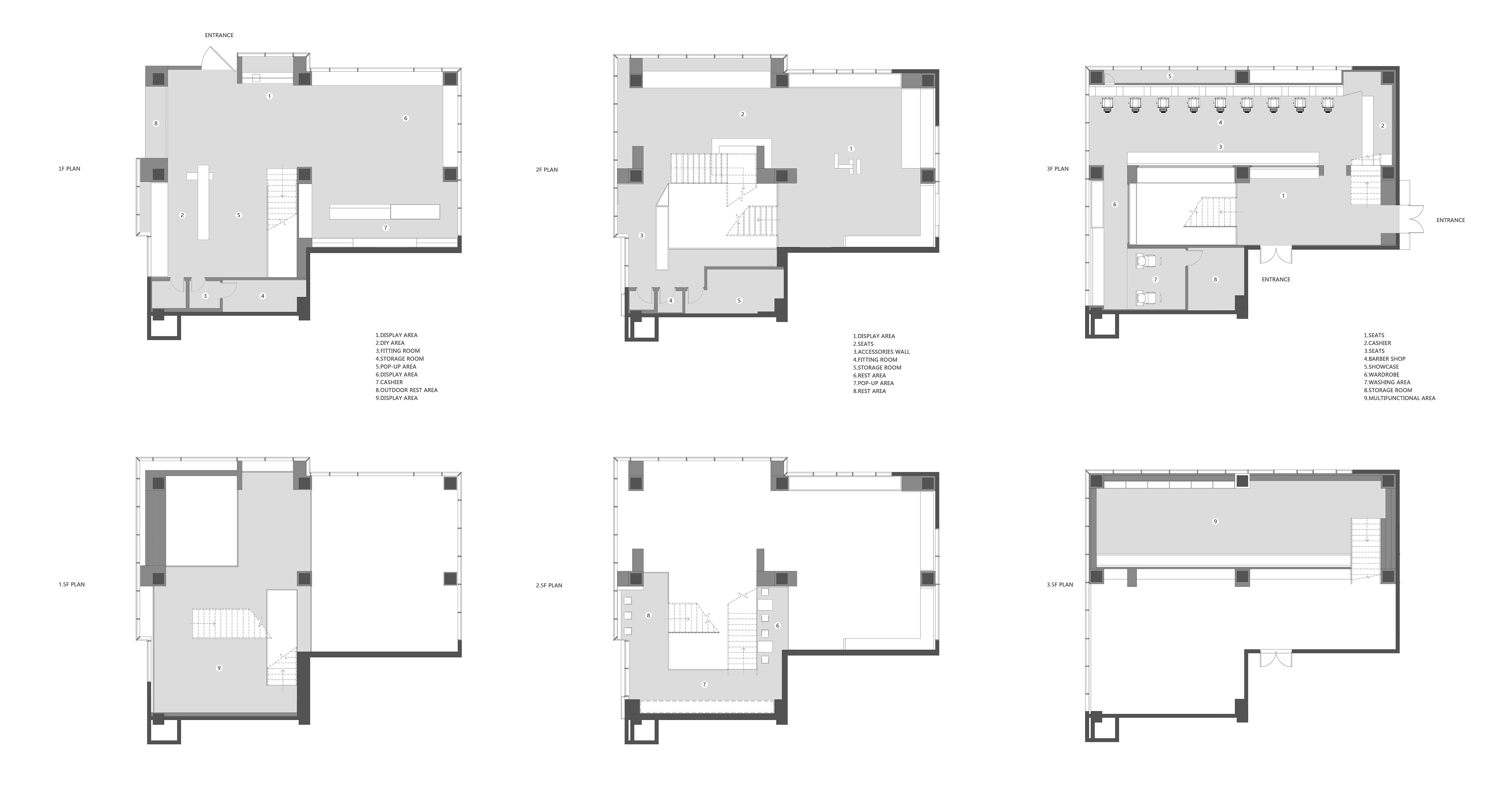 STRUCTURE INTRODUCTION | 结构介绍

「1807」的SLOGAN:"ONLY MY HOUSE NUMBER" 作为主要设计元素运用到门与门牌号的表现中。空间总共分为三层,一层为POP-UP展区及DIY的定制咨询区;二层为产品的主要展示区;三层为BARBERSHOP区,提供了纯正的美式理发及球鞋护理。三大区域通过夹层相连接,增加了空间的延伸性,并延长了购物路径。区域间穿插的可移动座位营造空间的街头社区氛围,以放缓购物节奏,延长购物时间。
-
The slogan of「1807」is "ONLY MY HOUSE NUMBER", It has been used as the main design element, it is applied to the door. Space is divided into three floors: the first floor is the pop-up area and the DIY area; the second floor is the main display area of products; the third floor is the barbershop area, providing pure American hairdressing and shoe care. The three areas are connected by a mezzanine, which increases the extension of space. The movable seats interspersed among the areas create the street community atmosphere of the space to slow down the shopping pace and extend the shopping time.


MATERIAL INTRODUCTION | 材料介绍
空间主要色彩选用具有深度且富有弹性的灰色,在具有包容度的同时极强的增加了品牌色彩-红色的表现张力。阳极氧化铝的选择,相比于传统的不锈钢显得更加细腻且不会出现强反光,同时这与墙面粗糙的肌理漆形成了强烈的对比,使空间的节奏层次更加明显。大理石的运用提升了店面整体的品质感与厚重感。座位的材质选用了球场上常用的枫木,强调街头元素及增加空间的舒适度。中性灯光弱化了光线对产品的影响,使得顾客可以更直观的感受到产品本身的细节。同时中性光不会给人燥热感,让购物体验更加的舒适自然,营造了轻松的购物体验的氛围。
-
The main color of the space is gray with depth and elasticity, which greatly increases the expression tension of the brand color-red while it is inclusive. Compared with the traditional stainless steel, the selection of anodized aluminum is more delicate and does not show strong reflection. At the same time, it forms a strong contrast with the rough texture paint on the wall, making the rhythm level of the space more obvious. The use of marble improves the overall quality and massiness of the store. The seat is made of maple, which is commonly used on the court. It emphasizes street elements and increases the comfortable feeling of the space. Neutral light weakens the influence of light on products so that customers can feel the details of products more intuitively. At the same time, neutral light will not give people a sense of dryness, making the shopping experience more comfortable and natural, and creating a relaxed shopping experience atmosphere.