PROJECT DETAILS
Location: 成都泰和二街英祥财富领域2栋3楼1号
Chief Designer & Team: 卿辉豪 Mojo Wang
Graphic Designer: 鲍BAO
CAD Designer: 王欢
Photography: 形在建筑空间摄影-贺川 | MOJO STUDIO
Area: 540㎡
Year: 2019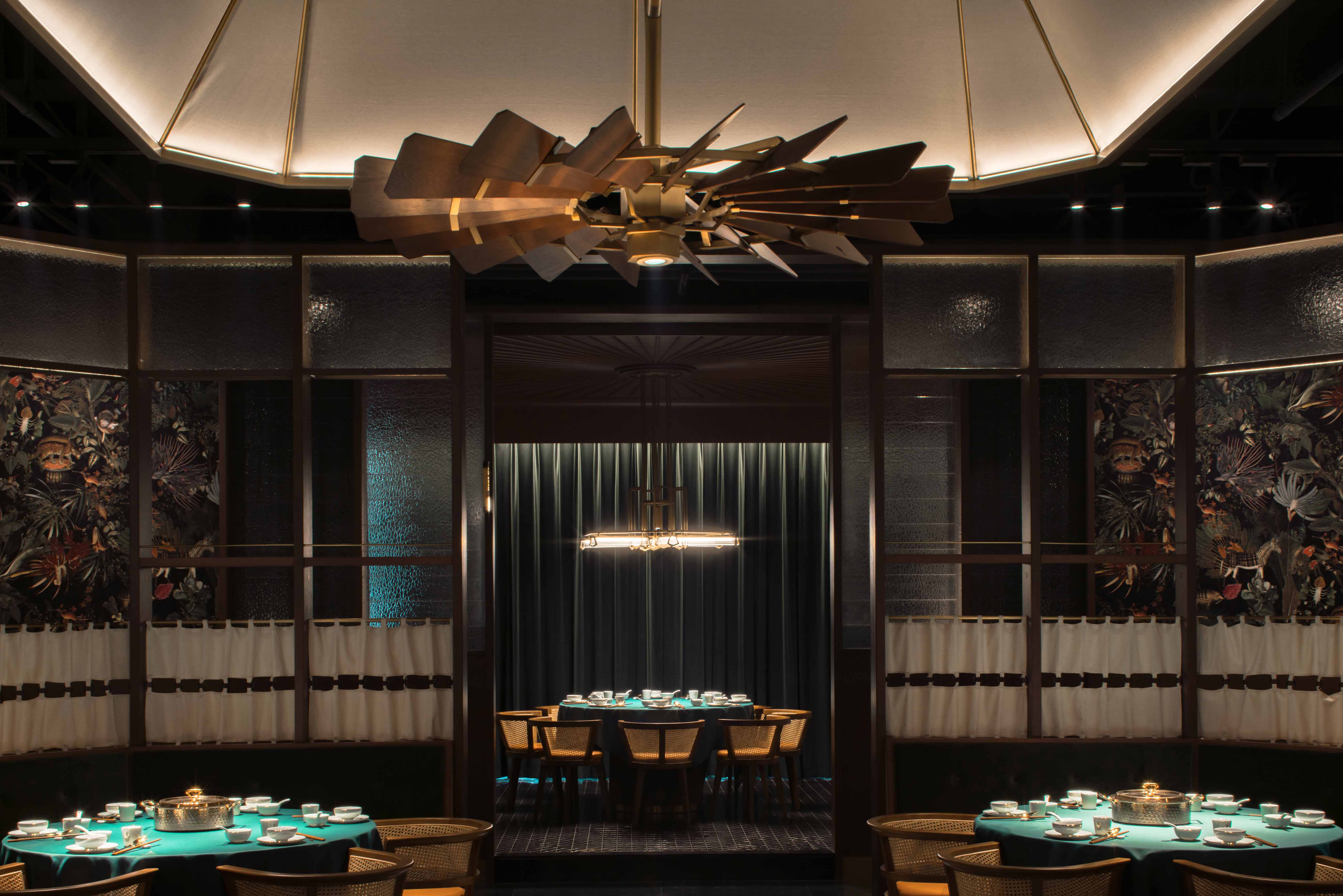 INTRODUCTION | 项目介绍
悦膠记是一家主营高端花胶养生汤锅的餐饮品牌, 品牌意在运用现代技艺传承经典口味。资方是位导演,所以希望设计能赋予空间电影画面的独特氛围。设计师从"历史传统""现代简洁""画面氛围"三个核心点入手,将复古戏院的元素与现代材质相互融合总结出具有复合美感的空间。

-
YUEHCHIAOCHI is a catering brand mainly engaged in the fish-maw soup pot. The brand is intended to use modern cooking ways to inherit classic taste. The management is a director, who hopes the design can give a unique atmosphere of the film to the interior. The design is based on three core points which are "historical tradition" / "modern simplicity" / "picture atmosphere", sums up the interior with complex aesthetic feeling by integrating the elements of the retro theater with modern materials.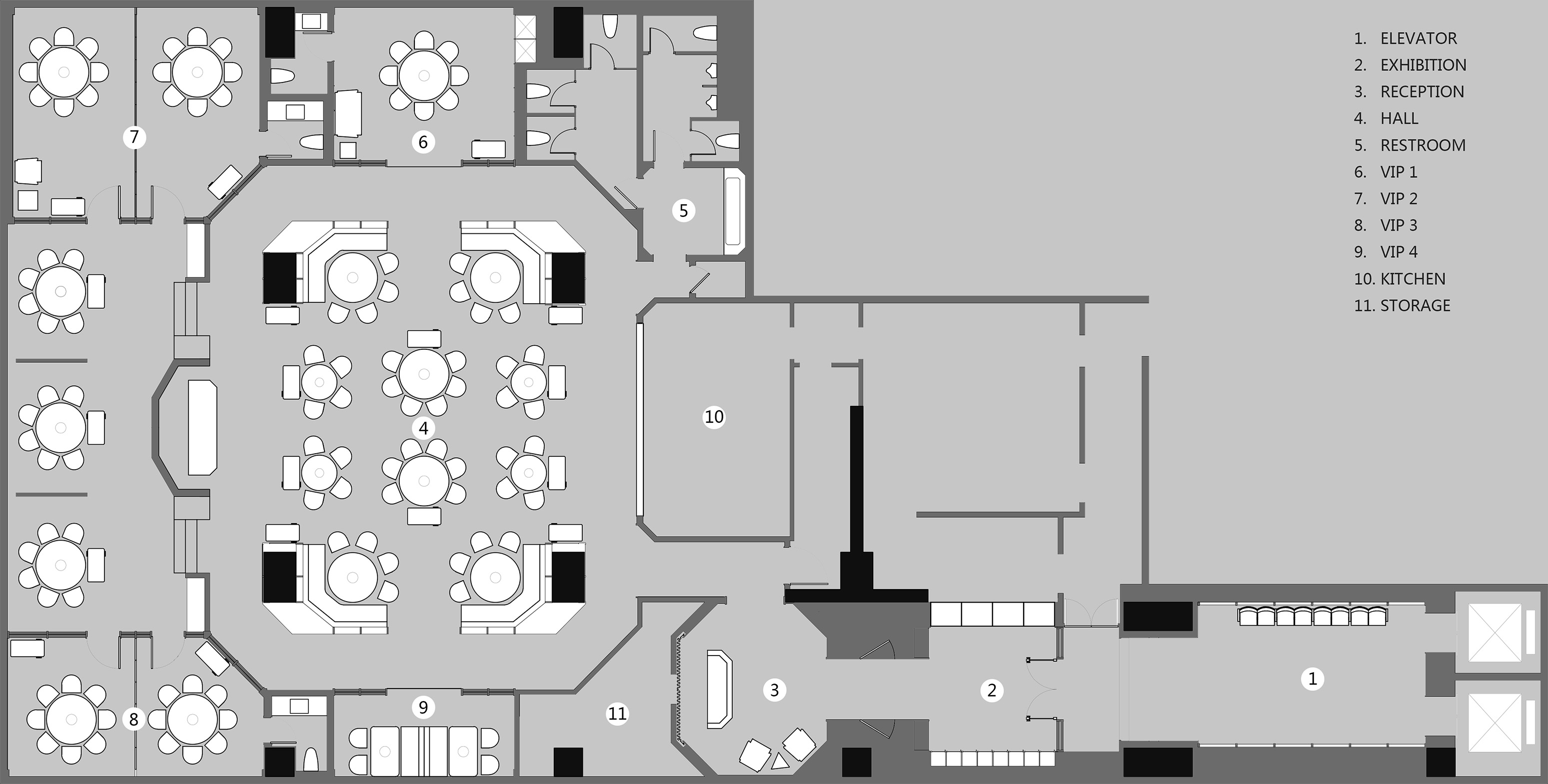 STRUCTURE INTRODUCTION | 结构介绍
入口长廊正对接待前台,将老影院的画面感带入空间。大厅入口隐藏在接待区的侧面,用压缩和开阔的视野变化为穿梭于空间的体验感增添循序渐进的叙事性。整体设计上讲究围合形与对称性,包间、水吧、明厨包裹大厅,形成独立的大厅用餐区域,短帘的运用在不破坏整体环境氛围的同时提升空间的私密感。
-
The entrance corridor is facing the reception desk, bringing the image of the old cinema into the interior. The entrance of the hall is hidden in the side of the reception area, adding a gradual narrative to the experience of shuttling in the space with compressed and open vision changes. The interior design is based on enclosure and symmetry, Private rooms, bars and kitchen round the hall to form an independent dining area. The use of short curtains not only does not damage the overall environment but also enhances the sense of privacy of the interior.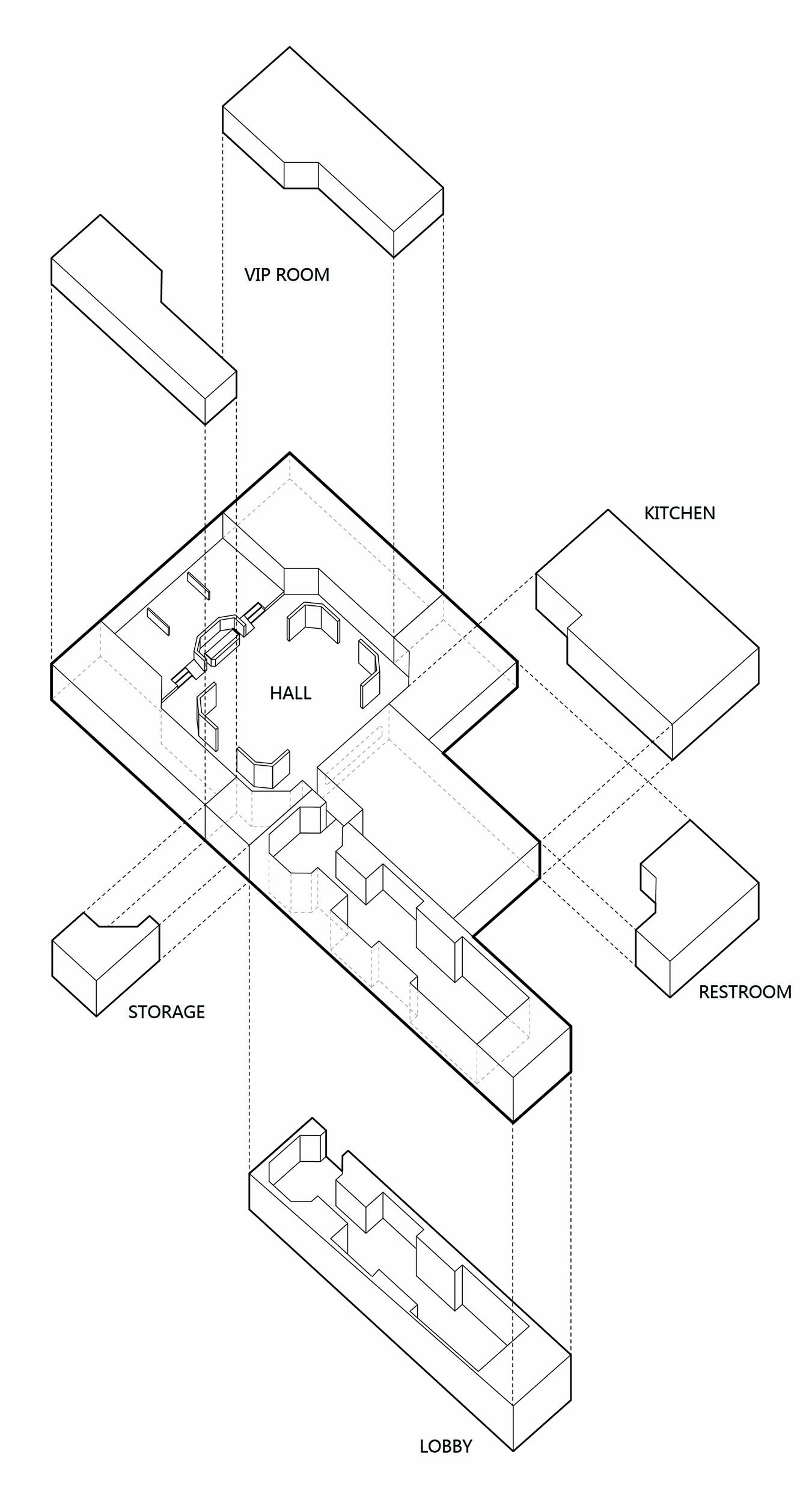 MATERIAL INTRODUCTION | 材料介绍
材质选用上主要以怀旧质感的木色为主,搭配胭脂红和墨绿色为空间烘托中式调性和电影质感的氛围。马赛克瓷砖,复古做旧玻璃,花色墙纸的搭配使环境更加丰富多元,也为细节部分提供了更为精致的表现。
-
The material selection is mainly nostalgic wood, with rouge and dark green to set off the atmosphere of Chinese tone and film texture. Mosaic tile, vintage glass, and decor wallpaper make the environment more colorful and diversified and provide more delicate performance for details.