PROJECT DETAILS
Location: 成都市成华区双林路339·1栋1a层
Chief Designer & Team: Mojo Wang | Dr.Hoo | 邱天
CAD Designer: 王欢
Installation Designer & Team: 陈强 | 鲍BAO | 裴迪 | 大鱼
Lighting designer: 行欧末照明设计/Oway Lighting
Photography: 行在建筑空间摄影-贺川
Owner-Principal: 小狮子Erin
Area: 外区500㎡ 内区1065 ㎡
Year: 2019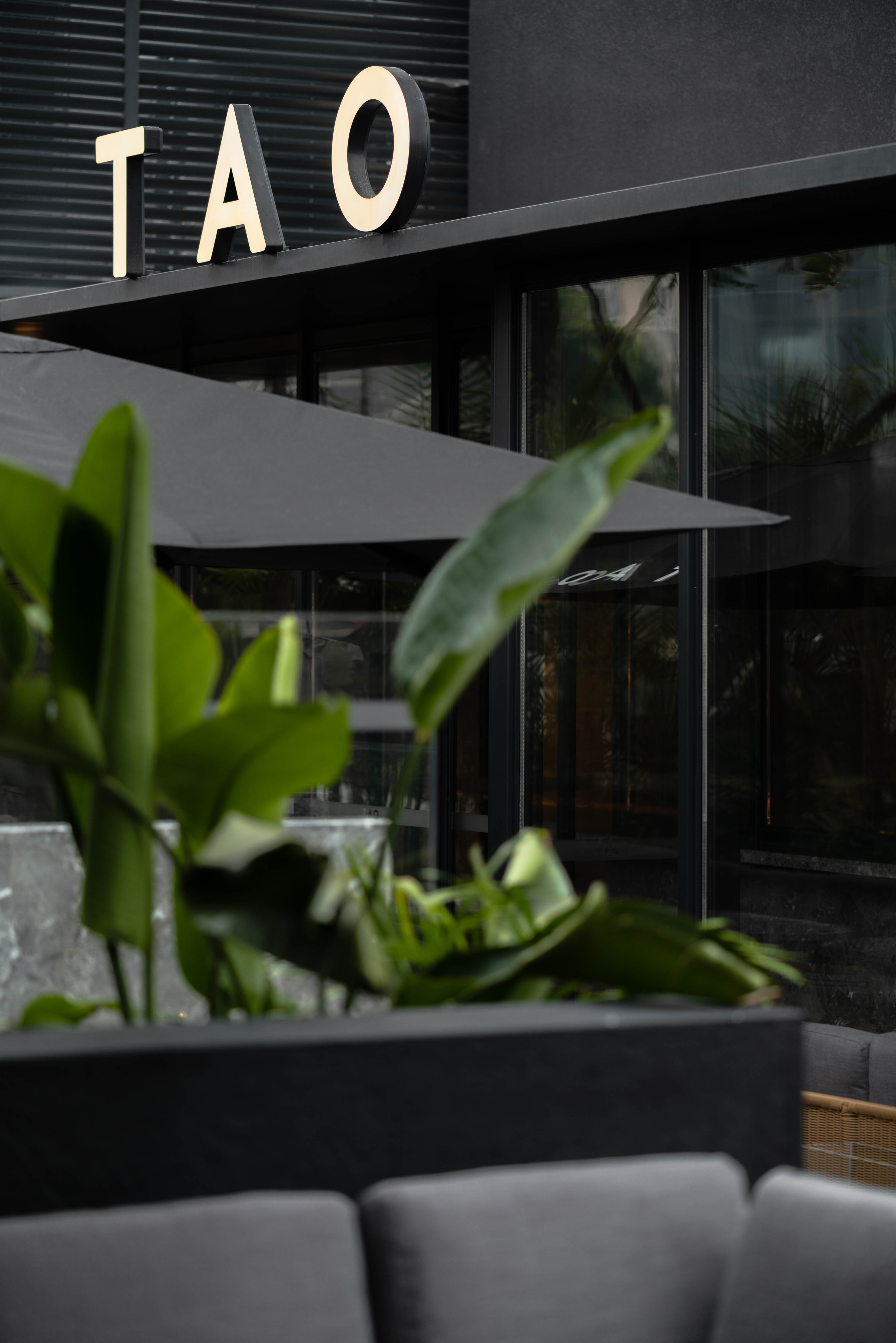 TAO (Lounge Bar),首店位于成都地标商圈339的档头地段,品牌方希望通过设计打造具有独特视觉表现的沉浸空间。
-

TAO (Lounge Bar), The first store is located in the head of 339 districts in Chengdu. The brand side hopes to create an immersion space with unique visual performance through design.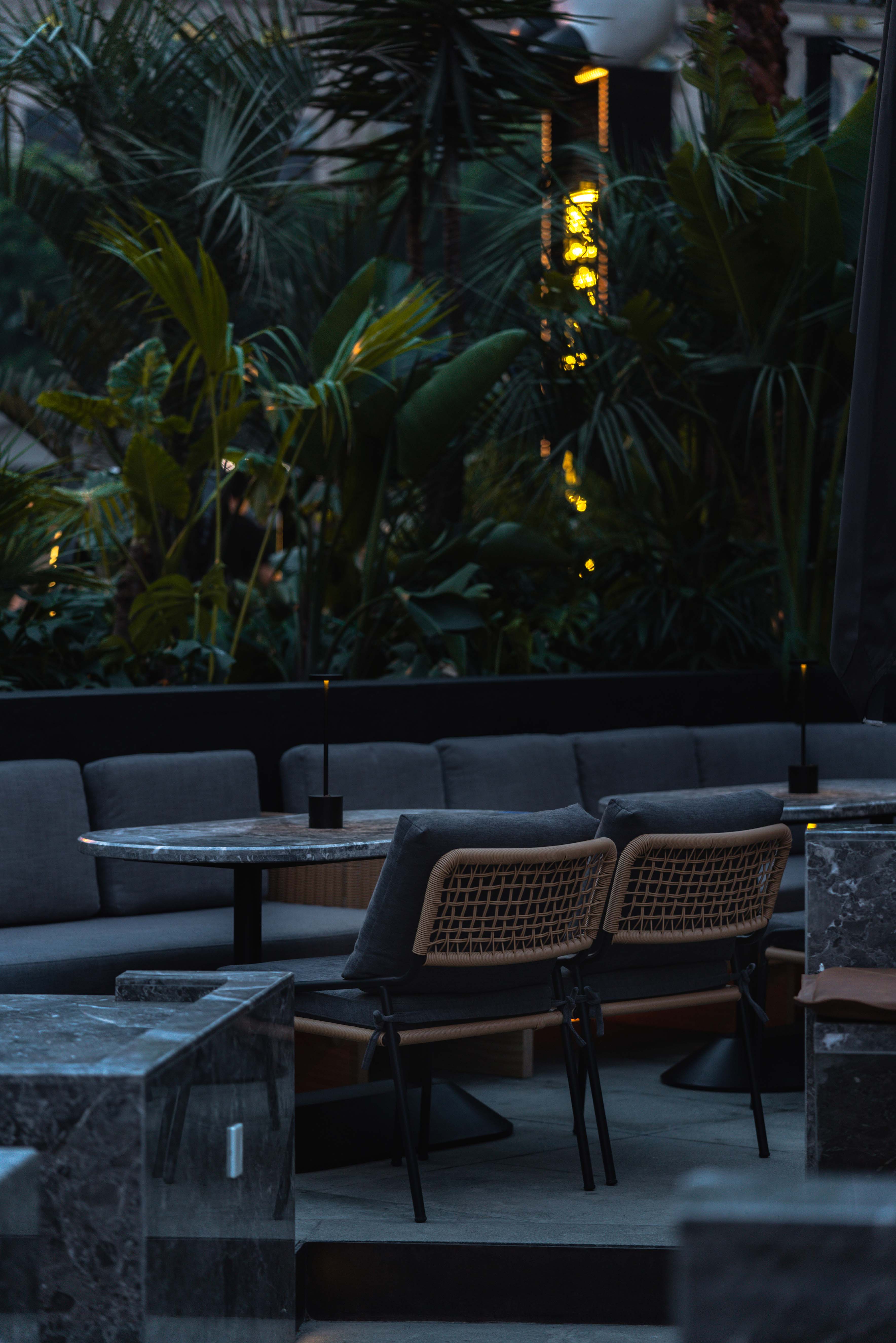 设计团队以"过去与未来的互观"为出发点,通过结构爆炸与变位的设计语言,增强空间的层次感和丰富性。同时结合巨型雕塑装置及多媒体黑纱投影的运用,打破大小/远近/虚实之间的传统逻辑关系,赋予空间多重视觉冲击力。
-
The design team takes a "mutual view of the past and the future" as the starting point, and enhances the sense of hierarchy and richness of space through the design language of structural explosion and displacement. At the same time, combined with the use of giant sculpture installation and multimedia black yarn projection, it breaks the traditional logical relationship between size/distance / virtual reality and gives multiple visual impacts to space.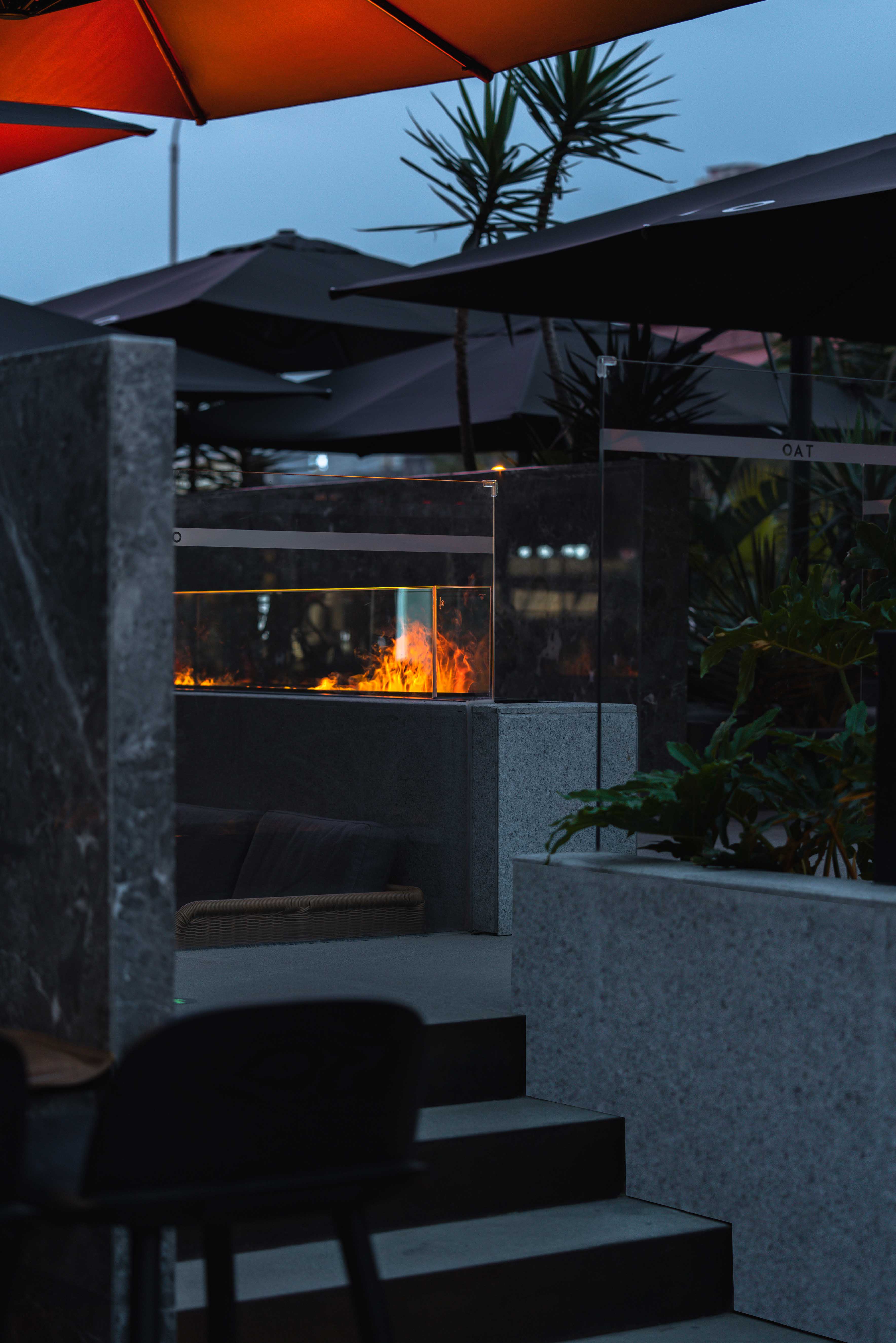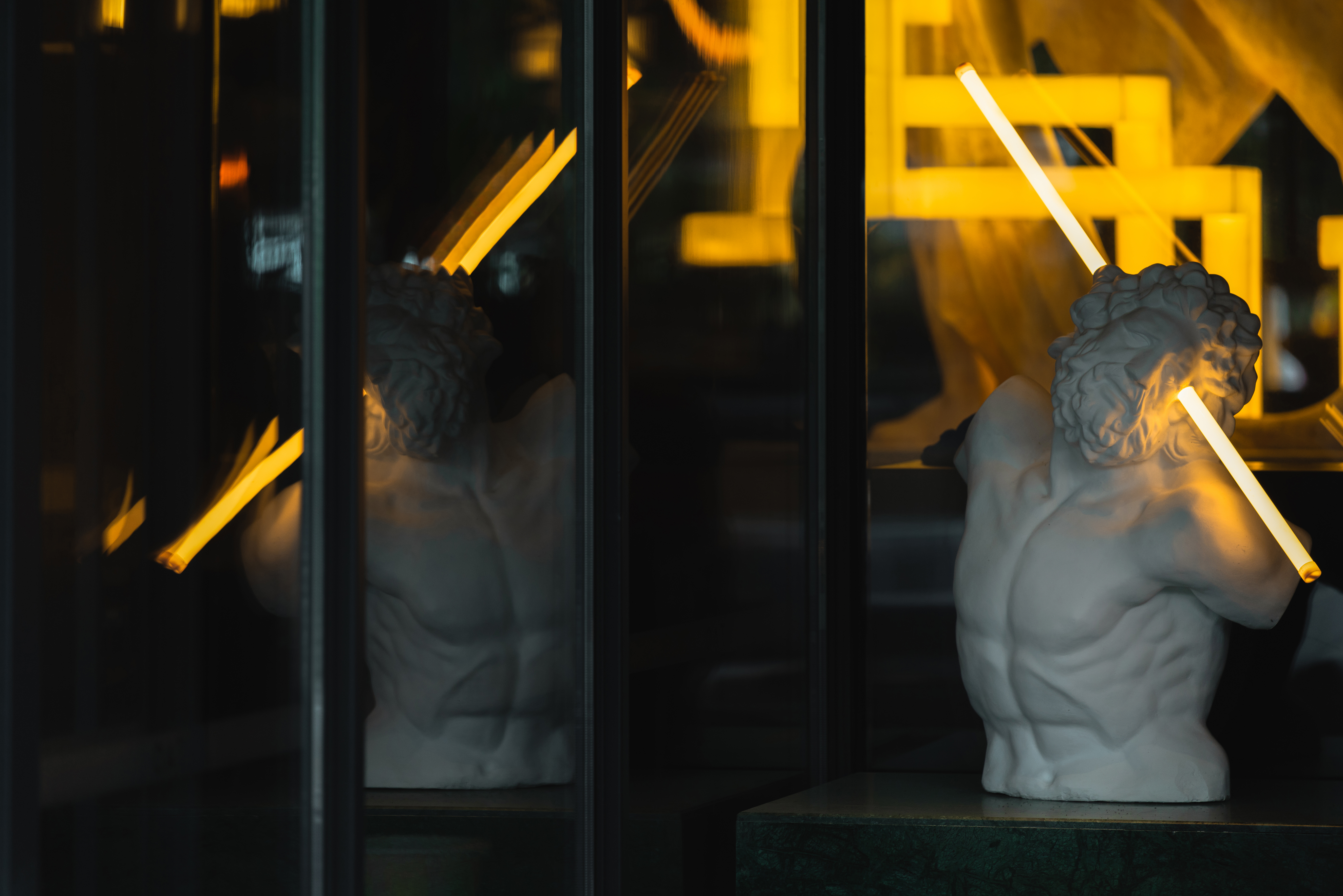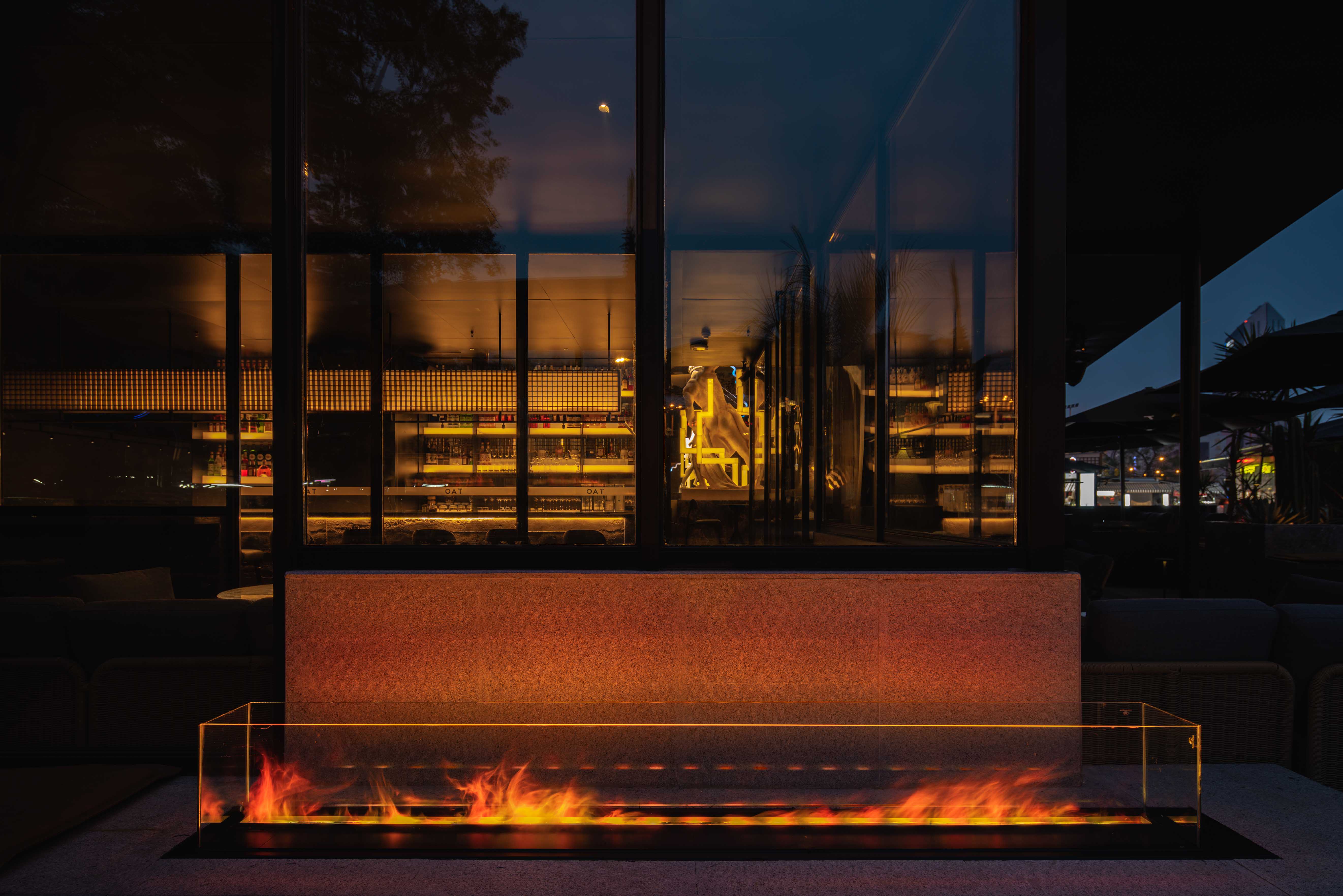 门店总占地1800平米,三面总长70米的门头使得内区与外区之间的关系更加紧密。外区采用下沉式结构,通过体块拆分及不同高度的抬升丰富视线层次。入口直通内区核心区域,两侧以错层抬升和对称楼梯的设计赋予空间多样性,楼梯后方为半开放式的包间区域,功能属性灵活多变。
-

The total area of TAO is 1800 square meters. The door head with a total length of 70 meters on three sides makes the relationship between the inner area and the outer area closer. The outer area adopts the sinking structure, which enriches the sight level through the separation of body blocks and the elevation of different heights. The entrance is directly connected to the core area. The design of a staggered floor and symmetrical stairs on both sides endows the space with diversity. The back of the stairs is a semi-open compartment area with flexible functional attributes.

内区共分为两层,二层环绕四周保证了空间整体的通透感,同时拆除了部分原有建筑的柱形结构,改为高挑拱形结构,在保证稳固性的同时与楼梯呼应,为巨型雕塑装置营造更具仪式感的氛围。
-
The inner area is divided into two layers. The second layers surround the whole space to ensure a sense of transparency. At the same time, the column structure of the original buildings is demolished and replaced by the high-rise arch structure. While ensuring the stability, it echoes with the stairs to create a ceremonial atmosphere for the giant sculpture installation.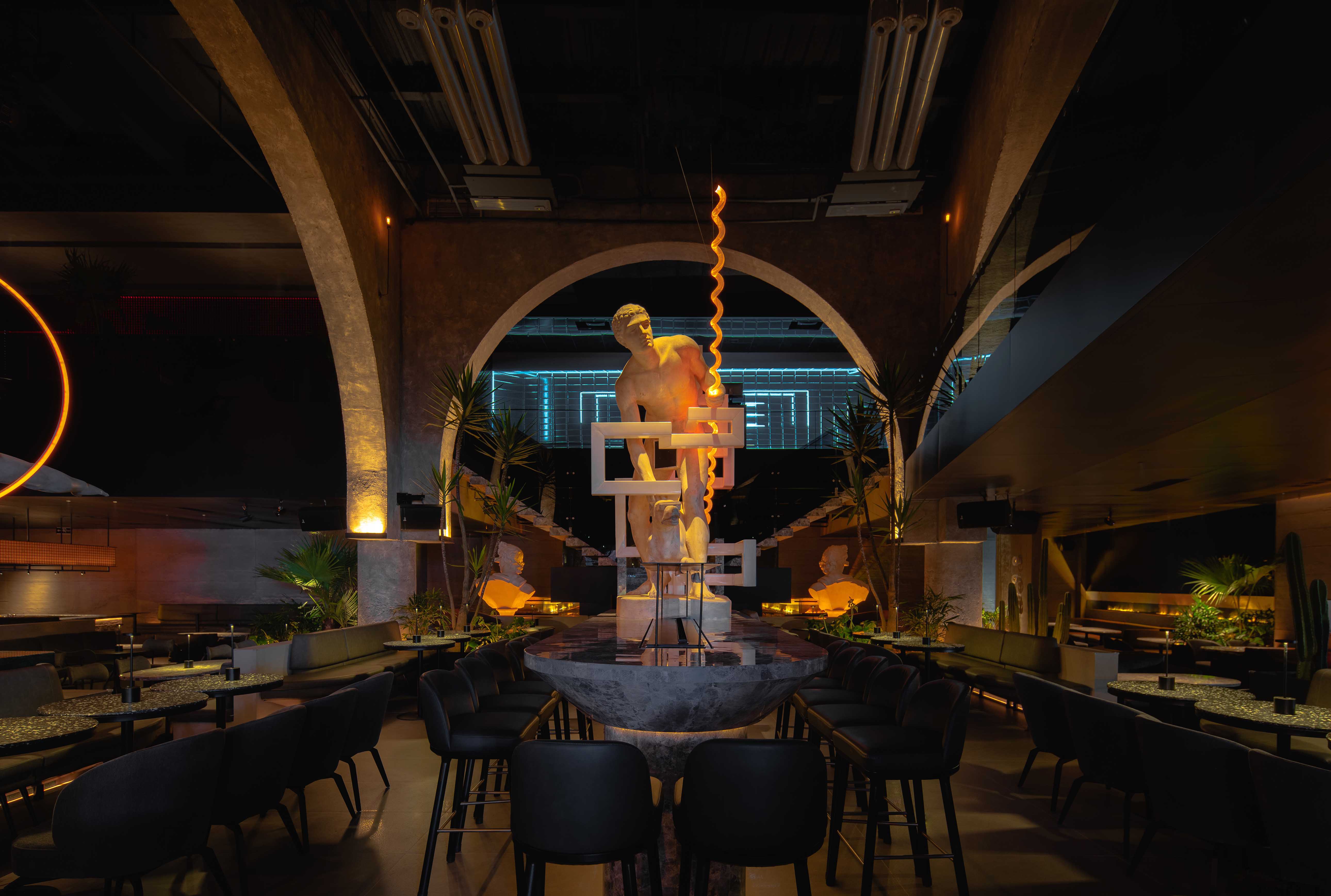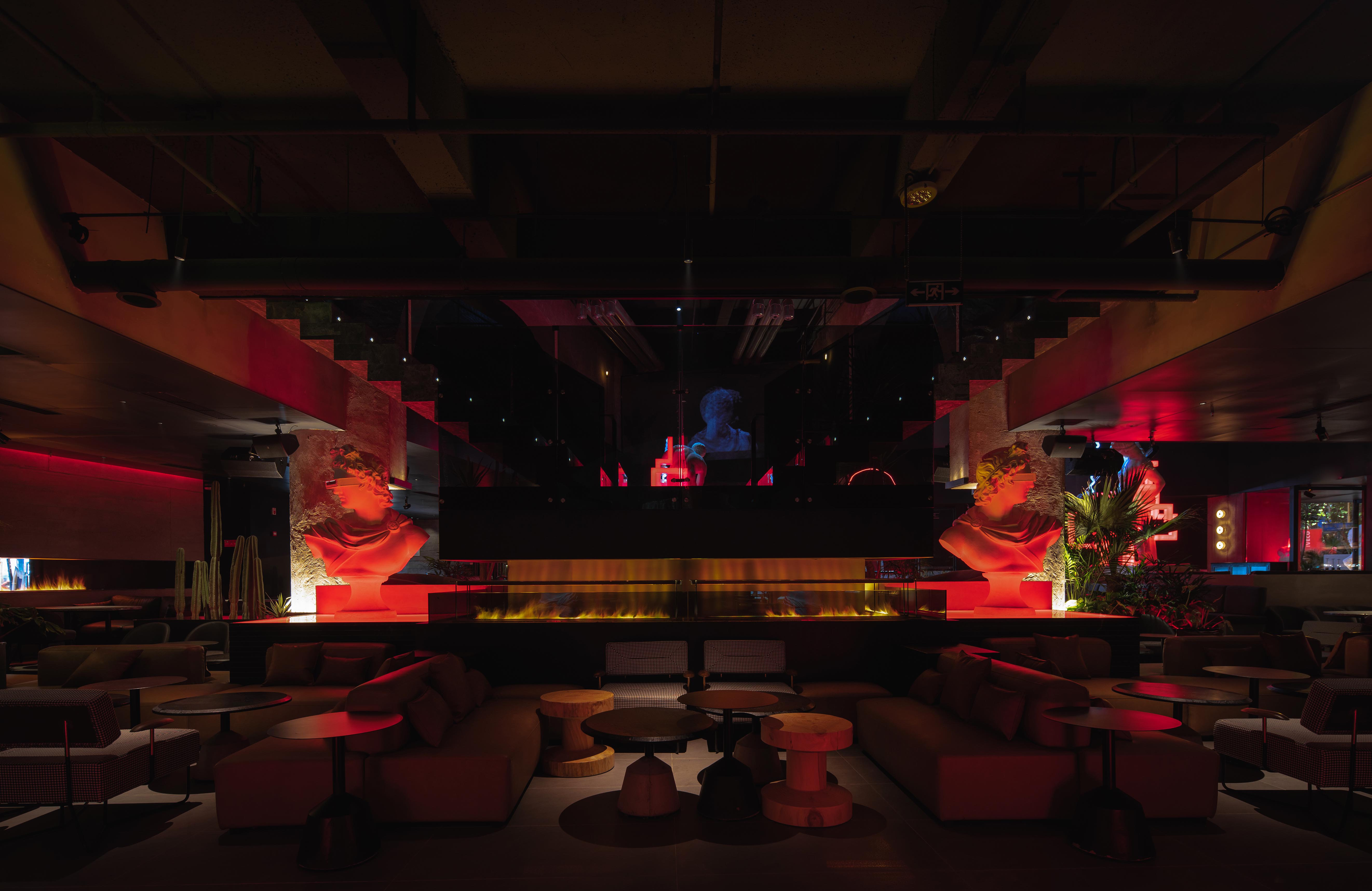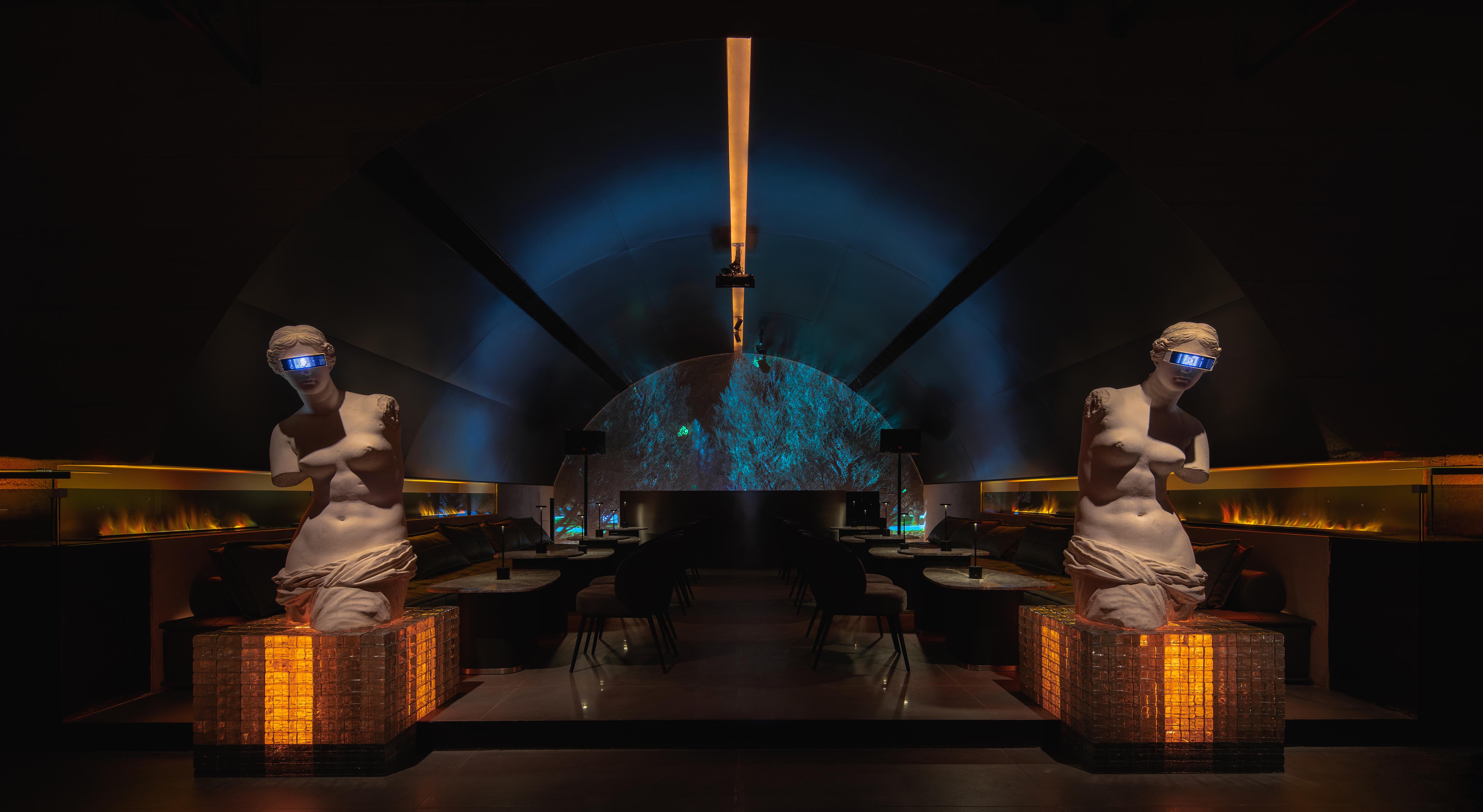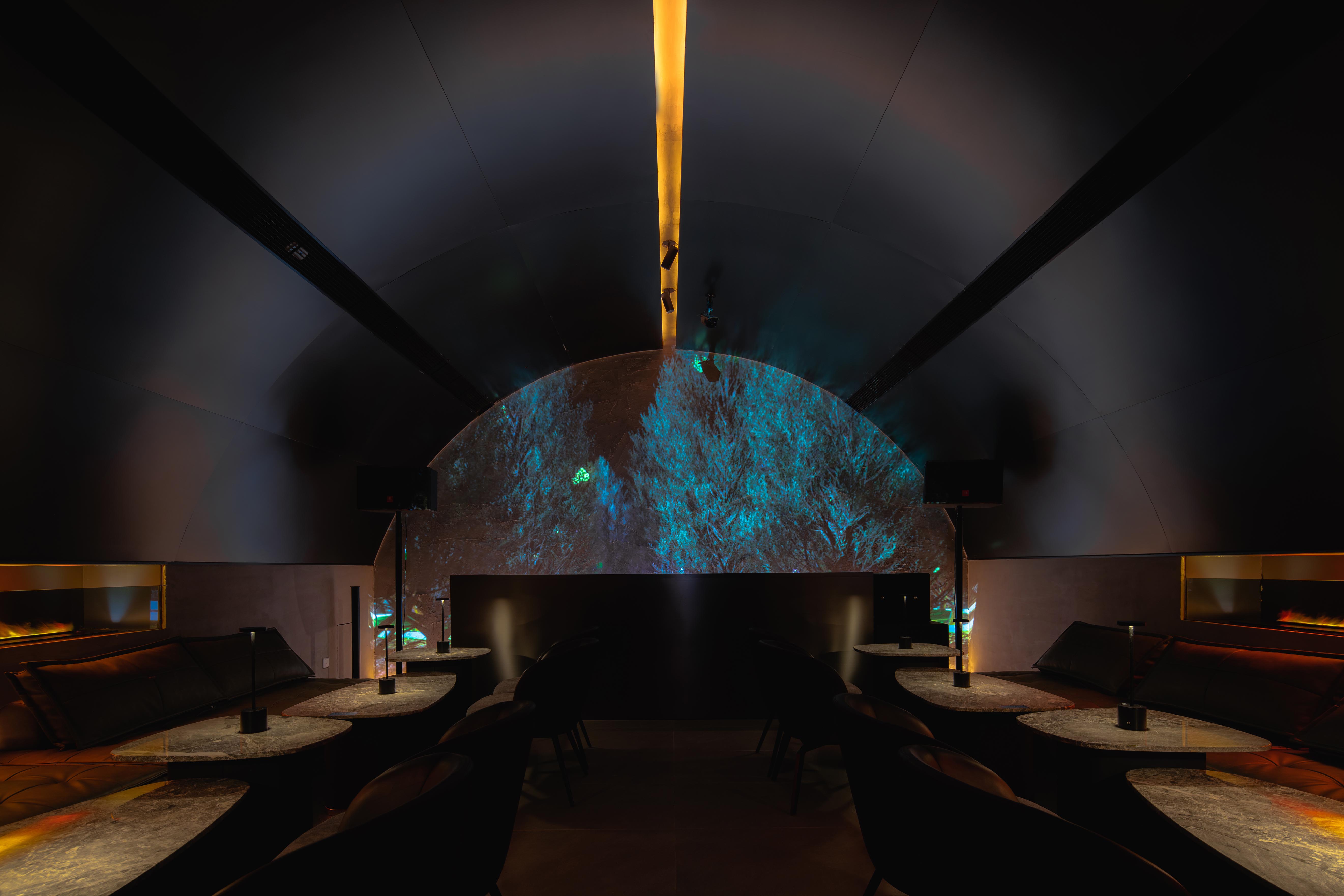 空间材质主要以水泥,混凝土卷材,石材,热轧钢板,不锈钢为主,同时以3D雕刻雕塑及热带针叶植物穿插于动线中增添丰富度与细腻感,设计团队希望通过光线在植物间穿透形成的阴影加强动态效果。同时雕塑和植物也作为空间的代表性视觉元素过渡连接内外区,带来更为完整的观感体验。
-

Space is mainly made of cement, concrete roll, stone, hot-rolled steel plate, and stainless steel, etc. At the same time, 3D carving sculpture and tropical coniferous plants are used to add richness and delicacy to the dynamic line. The design team hopes to enhance the dynamic effect through the shadow formed by light penetration between plants. The sculpture and plants are also used as representative visual elements of space to connect the inner and outer areas, bringing a more complete visual experience.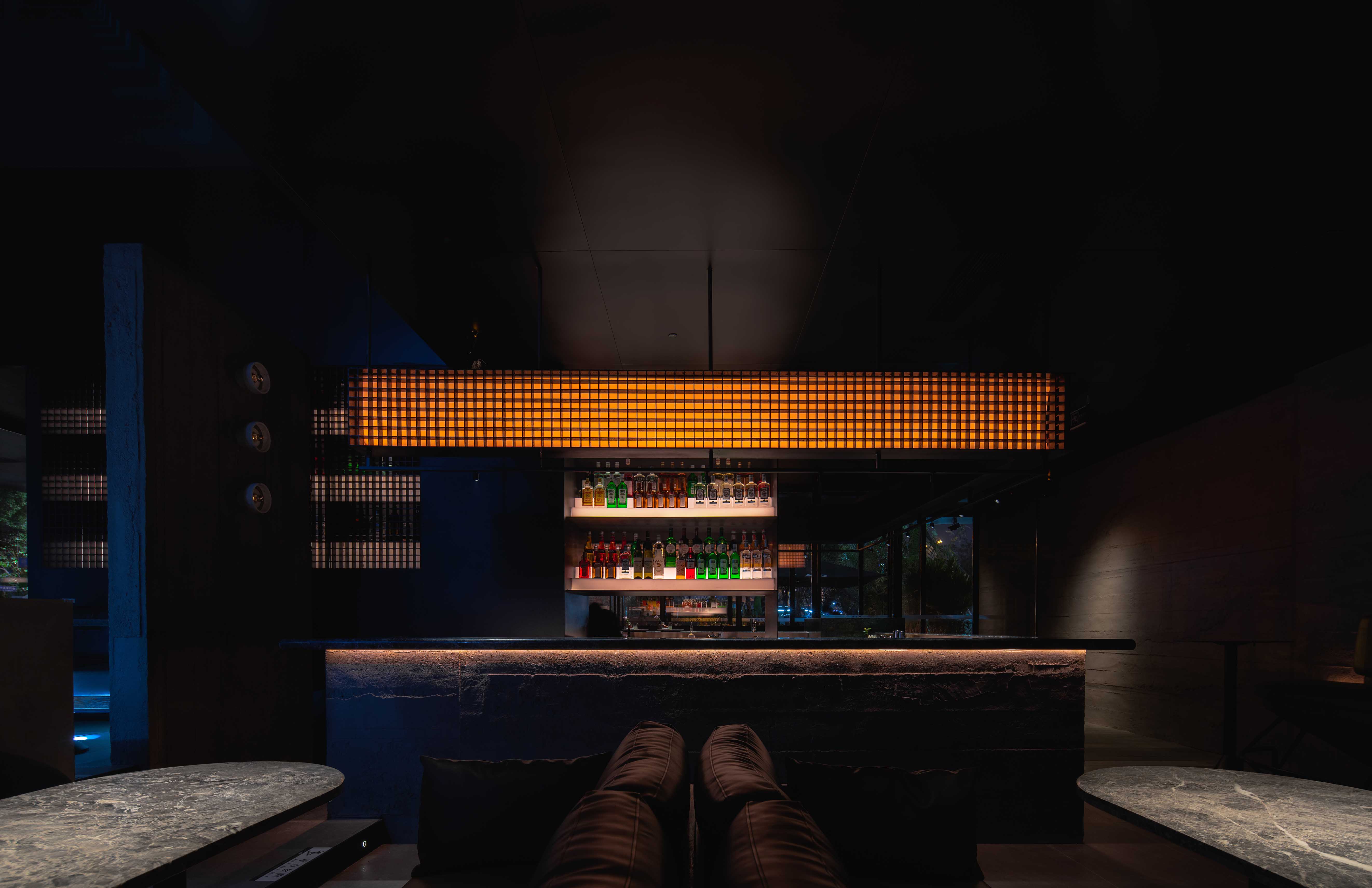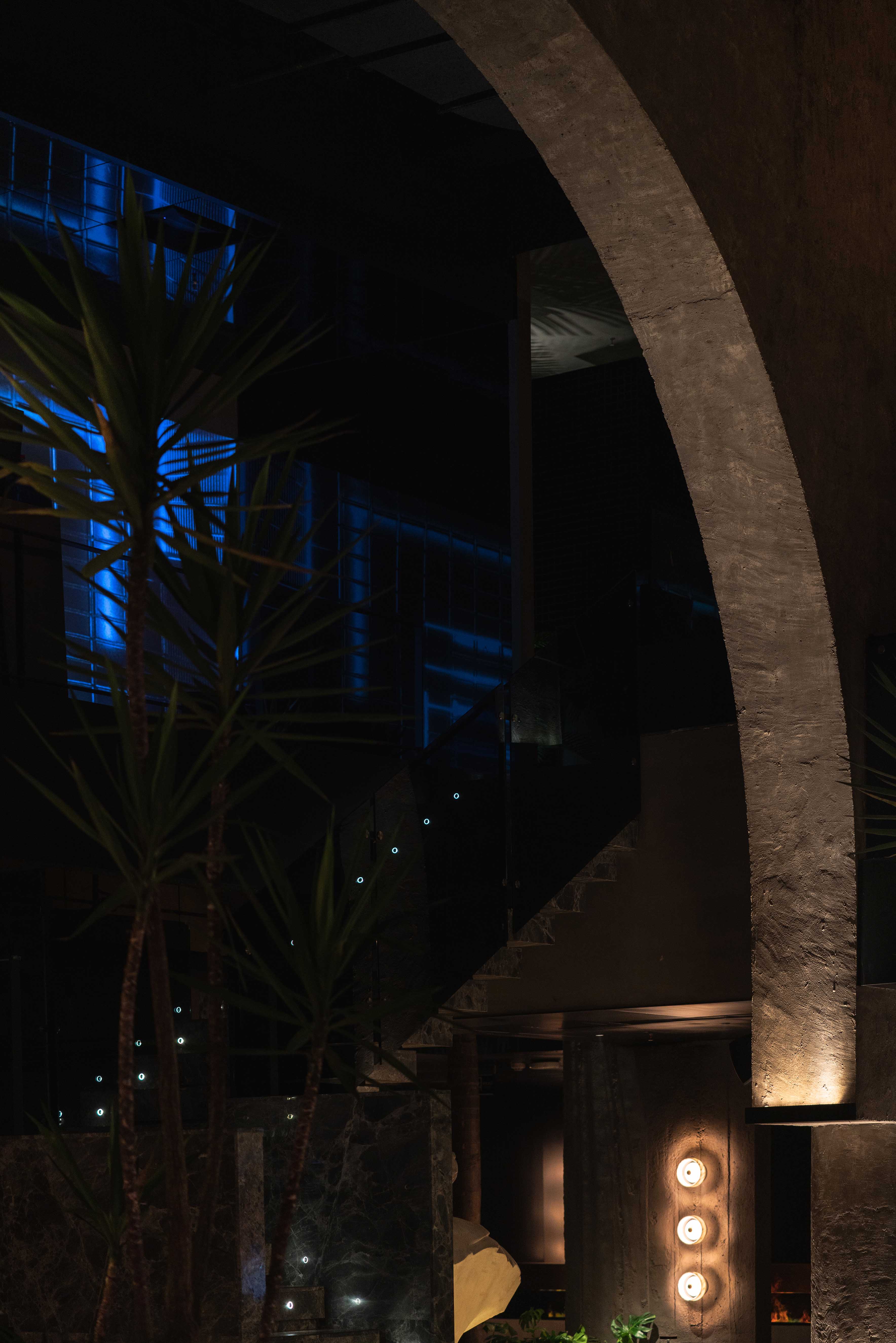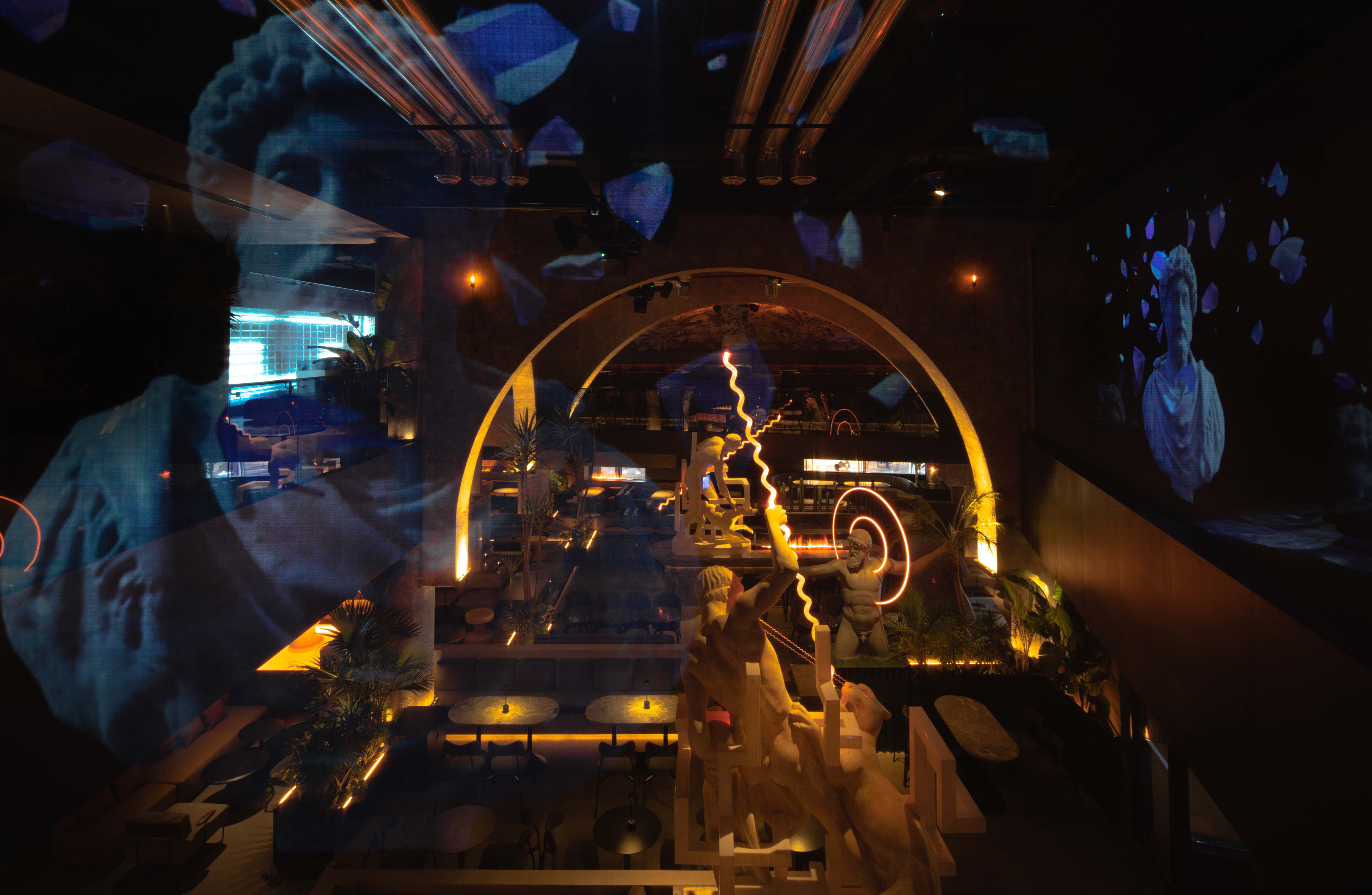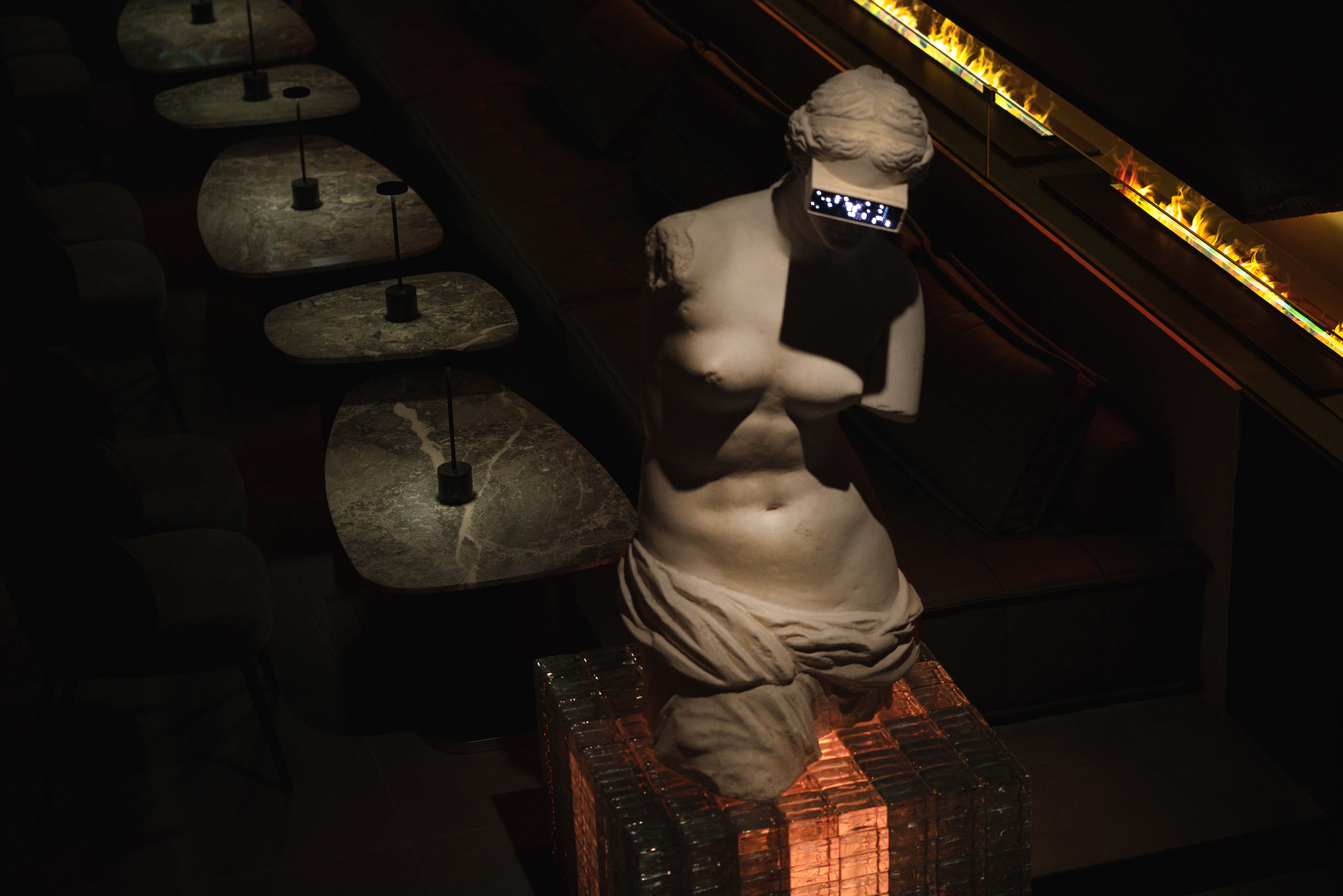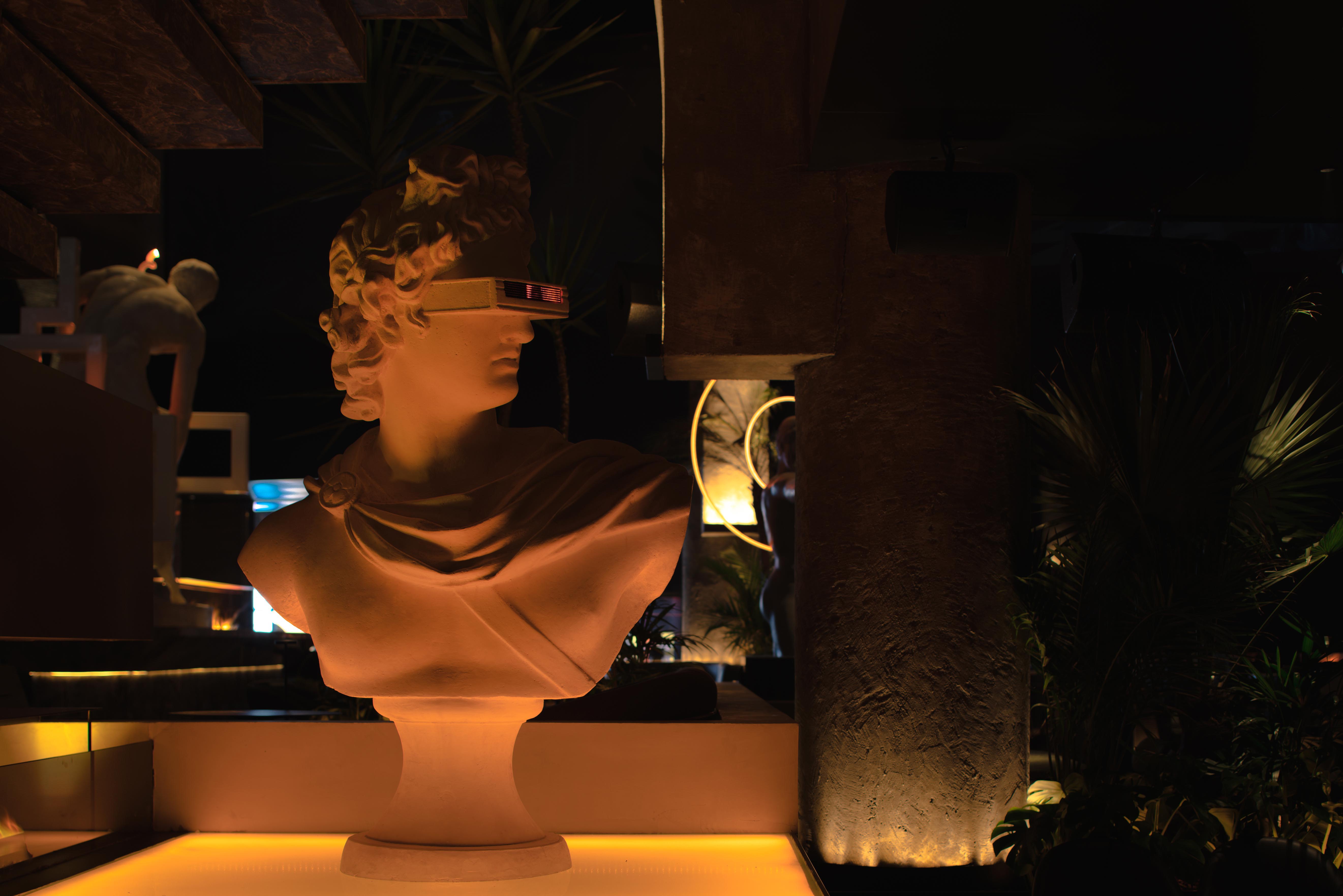 雕塑是空间中最具代表性的视觉重心,设计团队以神话人物雕塑为原型,通过对其造型的再设计呈现古典主义(Classicism)与信息空间(Cyberspace)碰撞产生的化学反应。
-

The sculpture is the most representative visual center in the space. The design team takes the mythical figure sculpture as the prototype and presents the chemical reaction of classicism and cyberspace through the redesign of its modeling.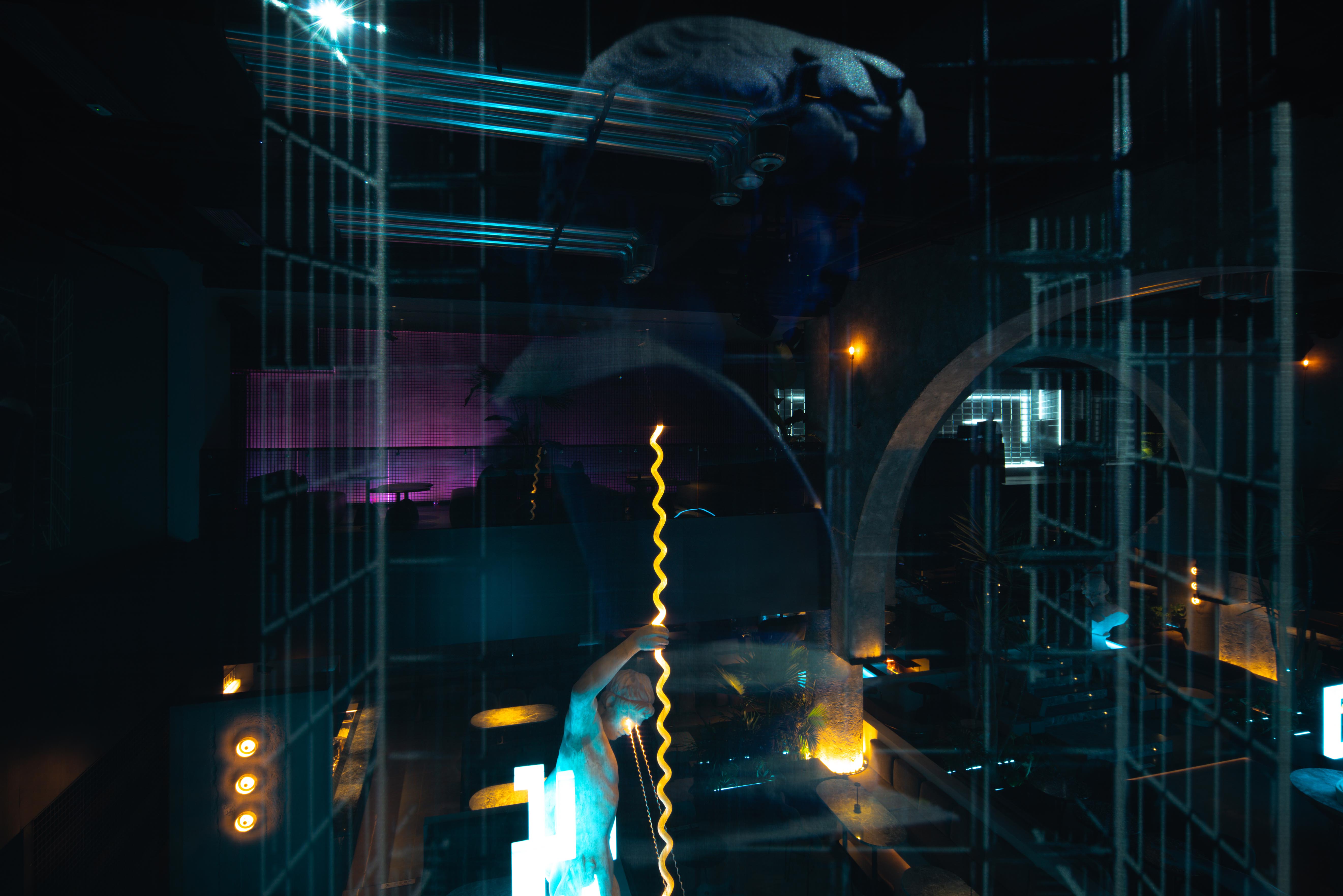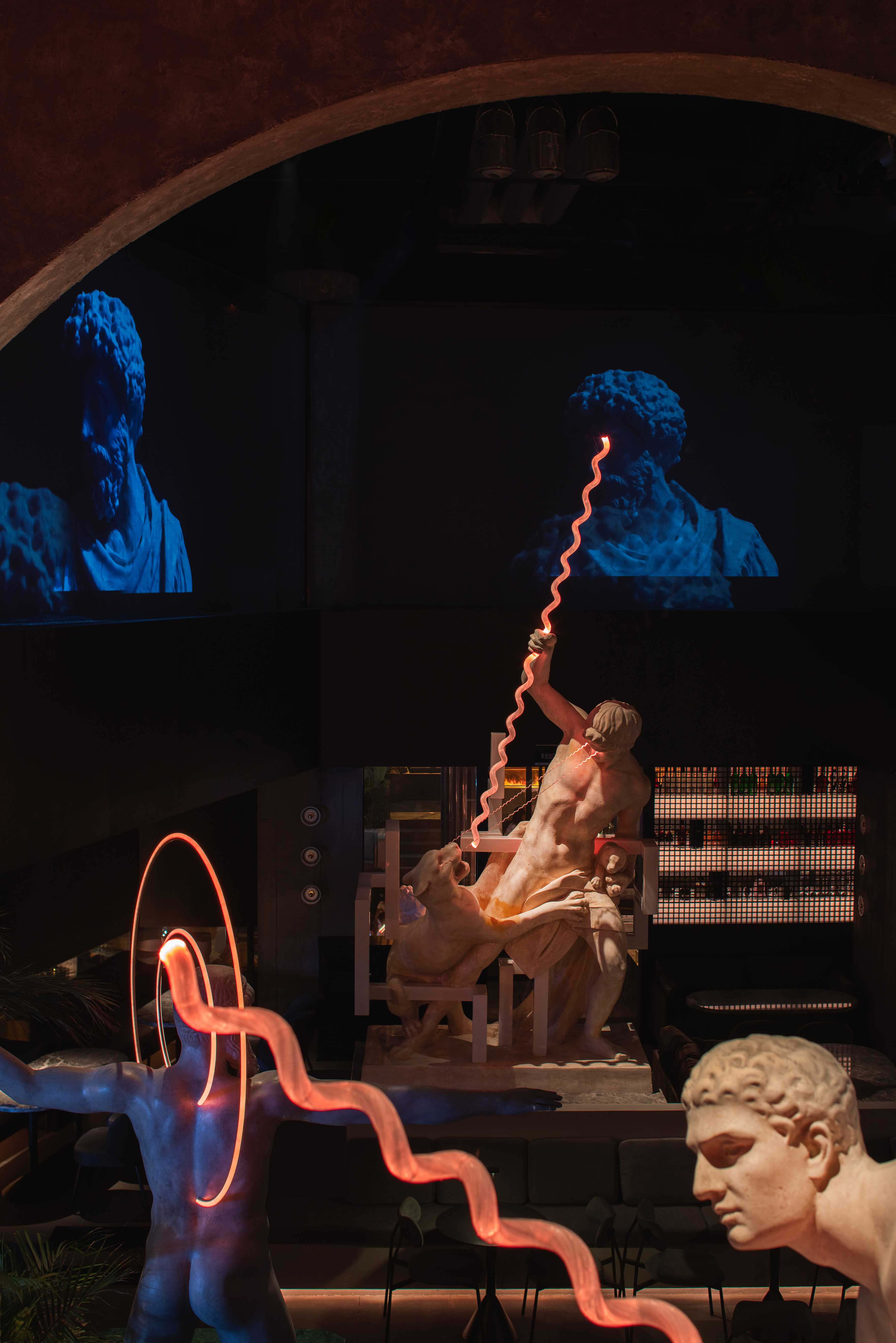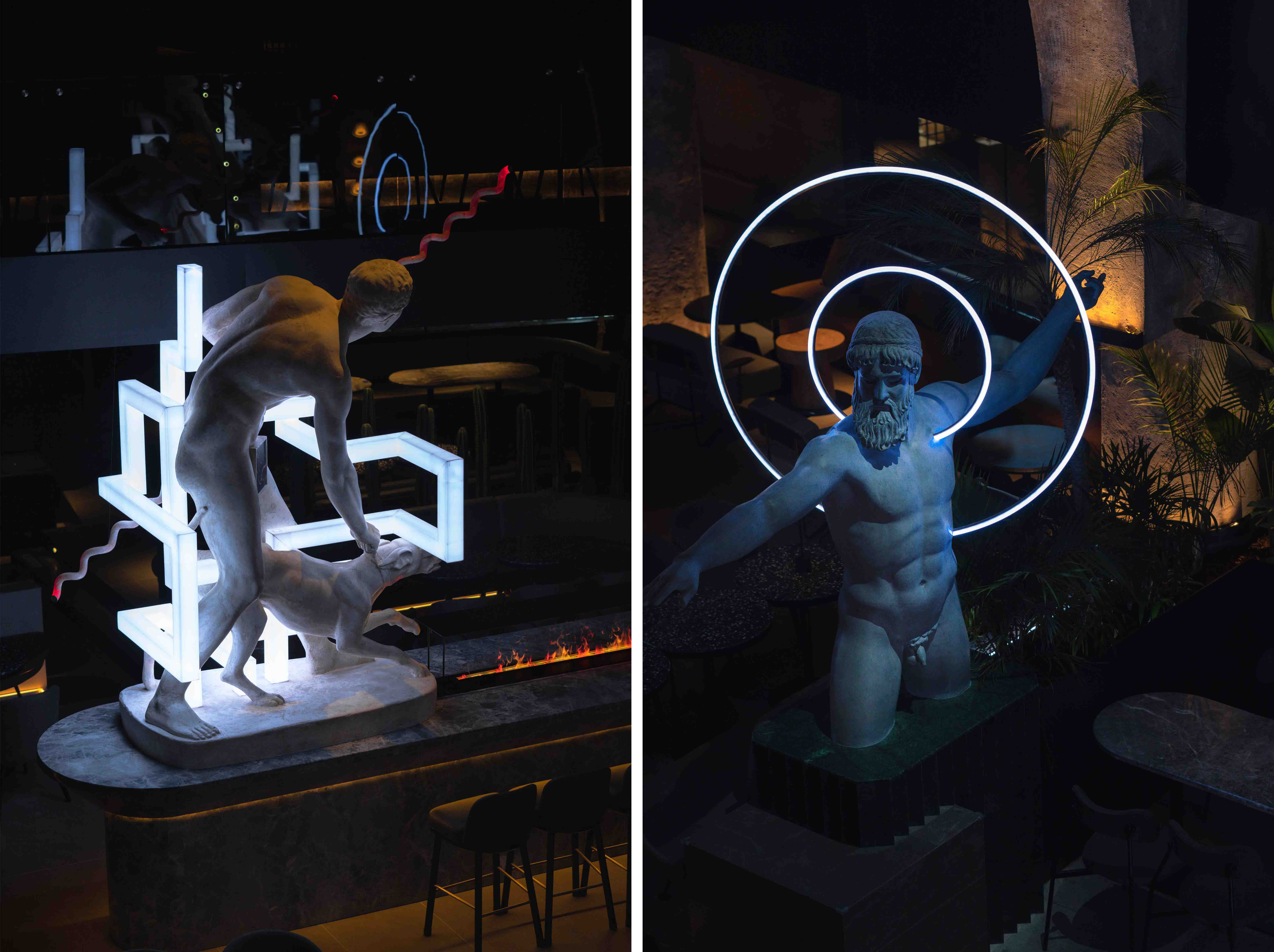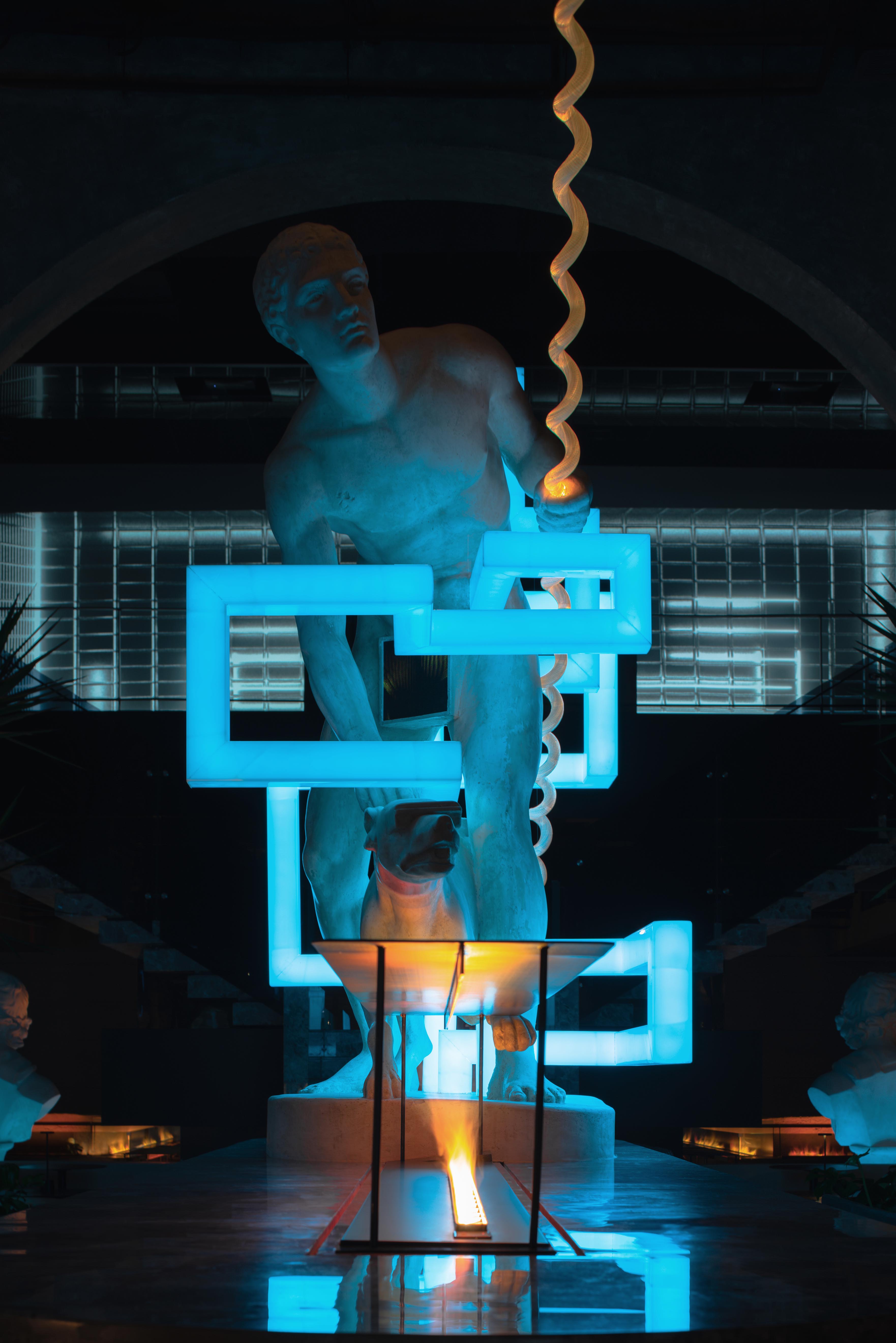 3D雕刻雕塑本身的巨物感与灯管/LED屏幕的结合,使装置在空间中既有很强的存在感也成为烘托氛围的一部分。同时雕塑形象也是二层多媒体投影的主要视觉元素,多元的展示媒介间相辅相成,辅助空间营造更为完整的沉浸模拟环境。
-
The giant sense of 3D carving sculpture and the lamp / LED screen makes the device have a strong sense of existence in the space. They also become a part of the atmosphere in the space. At the same time, the sculpture image is also the main visual element of the multimedia projection. The multiple display media complement each other and create an immersive simulation environment.