INTRODUCTION | 展览介绍:
柏拉图把人的灵魂分为欲望、精神和理性。欲望从本能发展而来,在历史发展的必要逻辑中充当人类一般活动推动力的角色。但在普世价值中,欲望常常与罪恶相连,这引发我们对欲望更多的好奇及探讨。我们赞同欲望是人的本质自身也是自由发展的,它并非致恶致乱的根源,而始终以最自由最中立的所谓欲望机器的形式存在着,它可以具象地被理解为基本的物质追求、生理需求或社会行为,也可被抽象地看作是人与外部世界及感性世界的一种以太。

MOJO STUDIO的MOJOC团队根据这次对欲望的探讨设计了名为"LUST FOR RISING"的香炉,将香炉塑形成被裸盖菇(致幻剂)包围的司芬克斯猫(与古埃及神同名,索福克尔斯曾说过"斯芬克斯之谜使我们顺从自然。当迷雾逝去之后,我们会更加注意目前的需要。"),点燃塔香后,如欲望般的烟雾盘旋面露平静神态的司芬克斯猫缓缓上升。关于香炉设计的更多意义我们不再赘述,正如这次与香炉同名的多媒体影像展,我们也不去更多的探讨欲望的合理性及作用,只是将其本身的一些符号可视化,希望观展人在一定的感官氛围和瞬间凝视中,能引发自我对欲望思考。

-
Plato divides the human soul into desire, spirit, and reason. Desire develops from instinct and acts as the driving force of human activities in the necessary logic of historical development. But in the universal value, desire is often connected with evil, which leads us to more curiosity and discussion. We agree that desire is not the root of evil and chaos but always exists in the form of the freest and neutral so-called desire machine. It can be figuratively understood as the basic material pursuit, physiological needs or social behavior, or abstractly as human beings and the outside world. And an ether of the perceptual world.
The MOJOC team of MOJO STUDIO designed an incense burner called "LUST FOR RISING" based on this discussion of desire. The incense stove sculpture was formed into a Sphinx cat (The same name as the ancient Egyptian god, Sophocles once said, "The Sphinx riddle makes us obey nature. When the fog passes, we will pay more attention to the present needs.) surrounded by a mushroom (hallucinogens).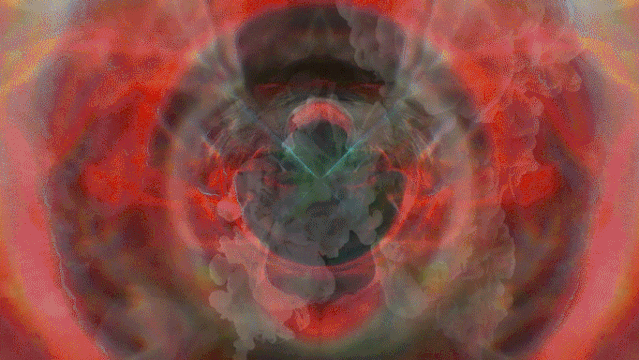 INTRODUCTION | 展览介绍:
MOJO STUDIO的MOJOC团队根据这次对欲望的探讨设计了名为"LUST FOR RISING"的香炉,将香炉塑形成被裸盖菇(致幻剂)包围的司芬克斯猫(与古埃及神同名,索福克尔斯曾说过"斯芬克斯之谜使我们顺从自然。当迷雾逝去之后,我们会更加注意目前的需要。"),点燃塔香后,如欲望般的烟雾盘旋面露平静神态的司芬克斯猫缓缓上升。关于香炉设计的更多意义我们不再赘述,正如这次与香炉同名的多媒体影像展,我们也不去更多的探讨欲望的合理性及作用,只是将其本身的一些符号可视化,希望观展人在一定的感官氛围和瞬间凝视中,能引发自我对欲望思考。
-
After the incense is lit, the Sphinx cat slowly rises with a calm, lustful smoke circling its face. We will not dwell on the more meanings of incense burner design. For example, in this multimedia video exhibition with the same name as an incense burner, we will no longer discuss the rationality and function of desire, try to visualize some symbols of desire itself. We hope that the exhibitors can arouse self-desire in a certain sensory atmosphere and instantaneous gaze and reflect it.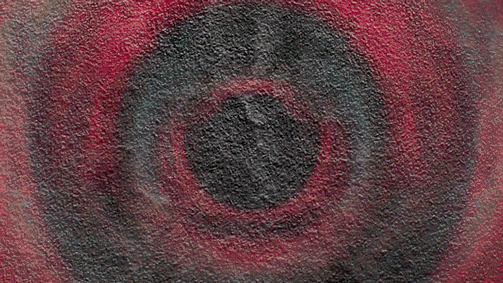 缠绕的灯带及裸露的电线,承接欲望带来的复杂情绪,描述多种形式间性能的显着差异。
Twined light strips and bare wires, to undertake the complex emotions brought by desire and describe the significant differences in performance among various forms.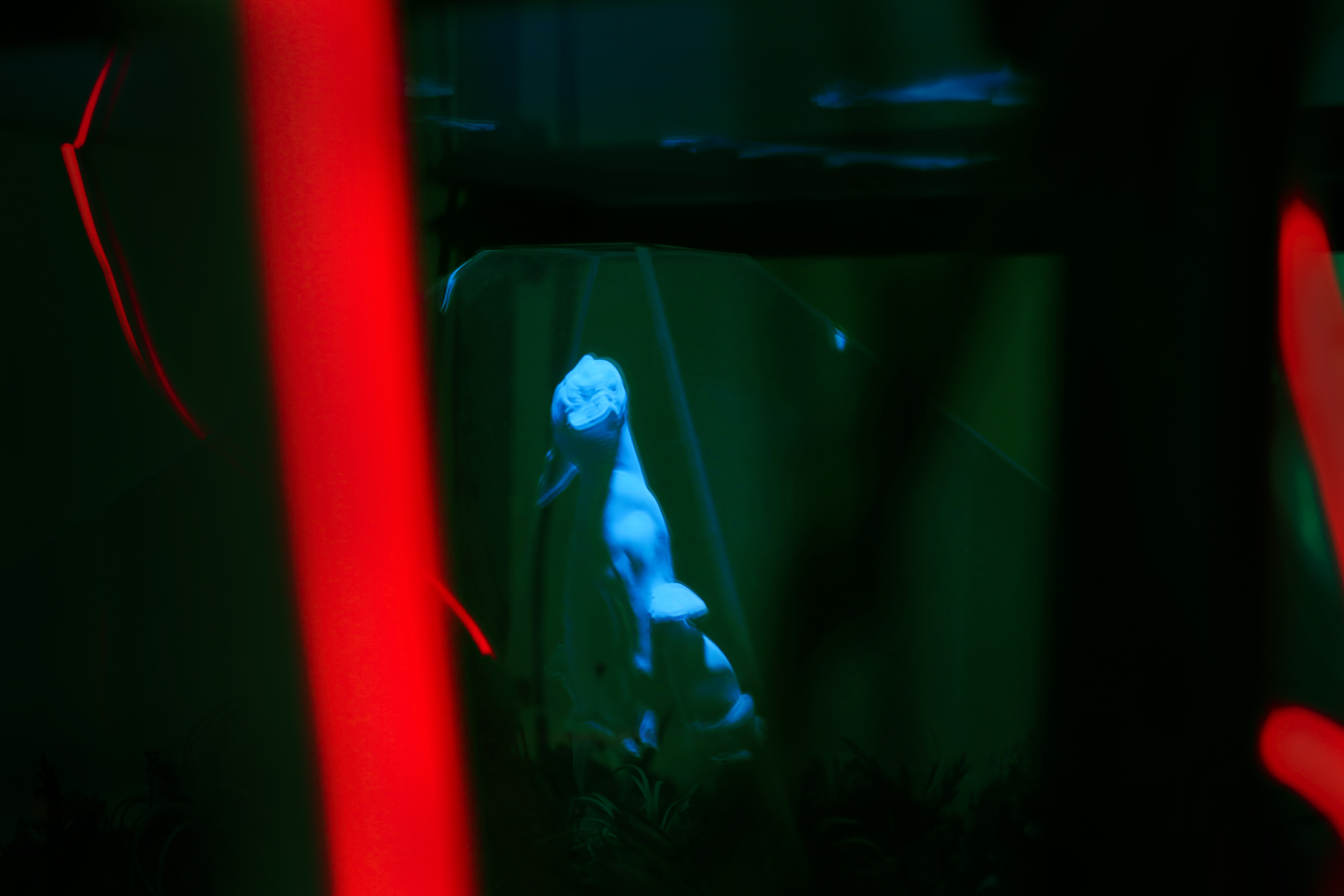 全息投影的猫身缓慢自转,虚实感使具象形象进入思维冥想阶段。
The sphinx of holographic projection rotates slowly, and the sense of virtual reality makes the concrete image enter the stage of thinking and meditation.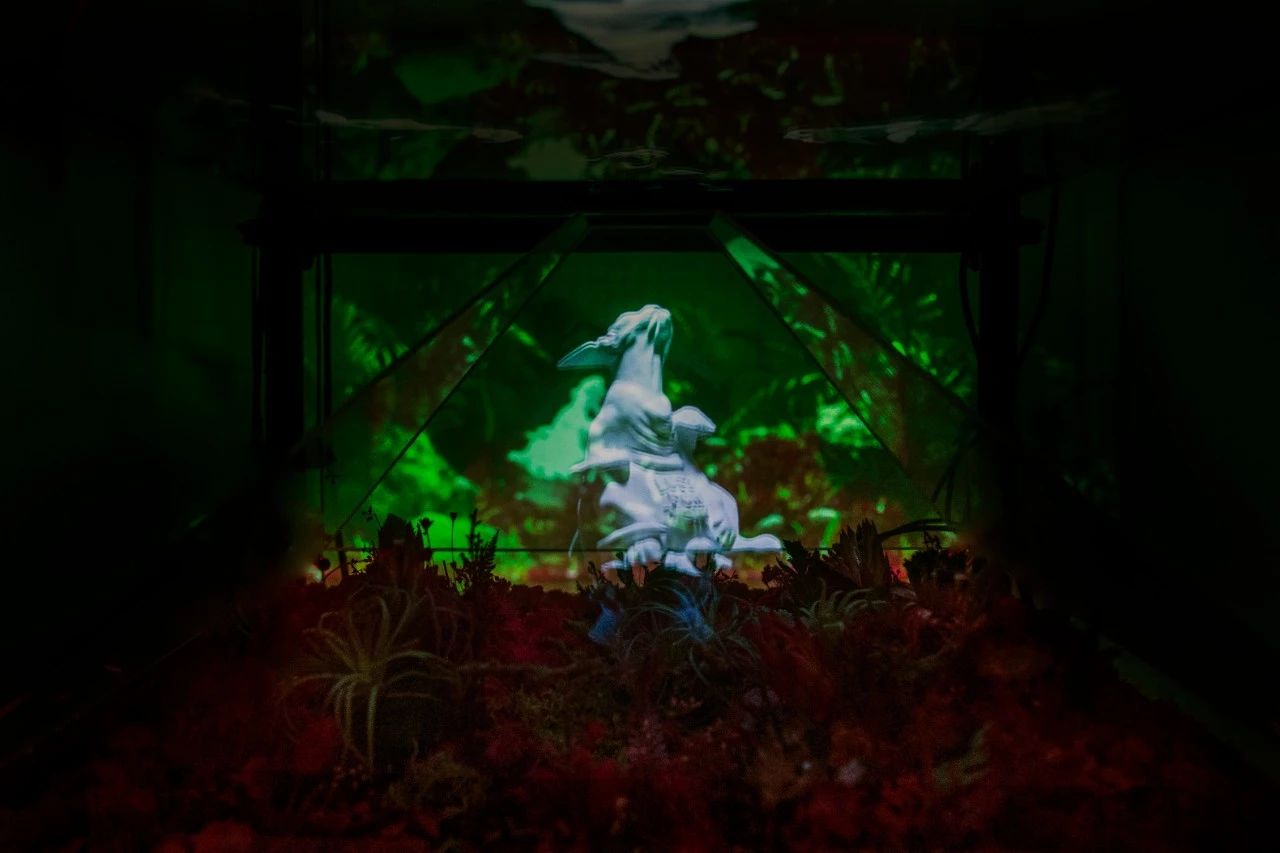 装置与整面投影的结合扩大了空间的纵深,多变的氛围环境与不同质物对欲望的理解达成共识。
The combination of the device and the whole projection expands the depth of the space, and the changeable atmosphere environment and different substances reach a consensus on the understanding of desire.
墙面投影赋予空间的光线影响着虚幻的猫身形象,传达不同状态下的意识。
The light given by the wall projection affects the illusory image of the sphinx and conveys the consciousness in different states.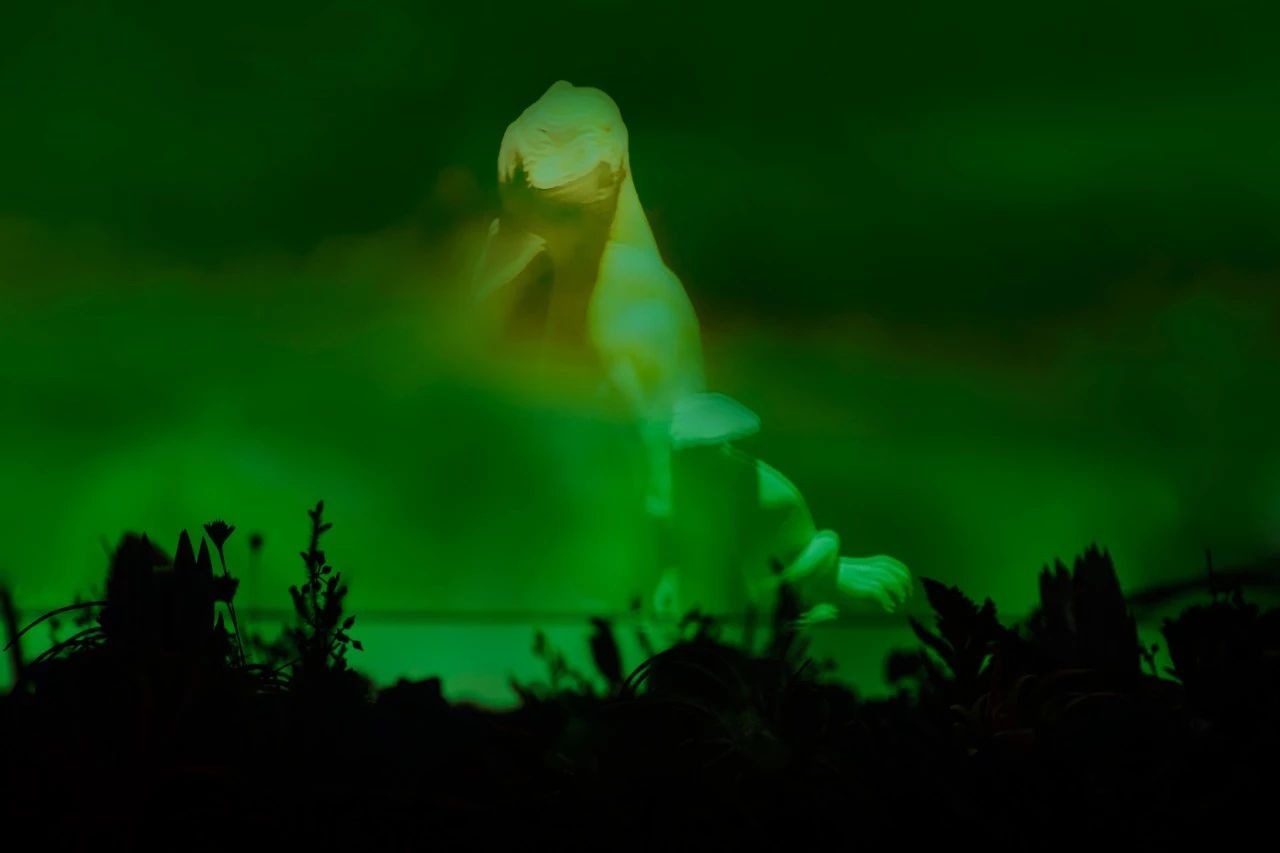 实虚结合的造景还原精神抽离的状态,模糊一切对事物,环境,真实或虚假的界限。
The combination of reality and emptiness restores the state of spiritual detachment and blurs all boundaries of things, environment, reality or falsehood.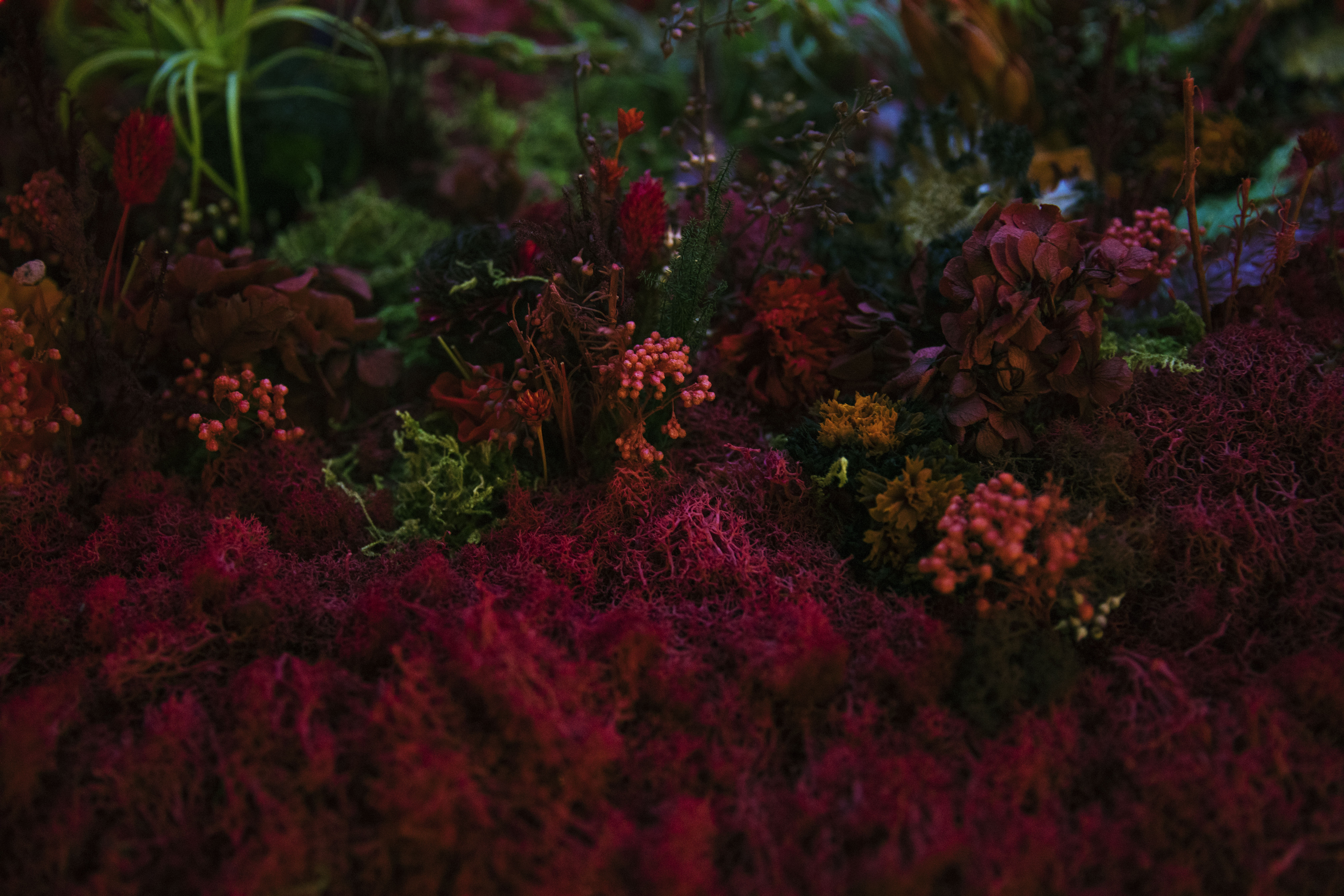 高饱和色彩的仿生植物是对欲望的具象呈现,它可以是毒药,也可以是释放的热烈与生机。
The bionic plant with a high saturation color is the concrete presentation of desire. It can be a poison, or it can be a release of warmth and vitality.
PRODUCT INFORMATION | 关于产品