PROJECT DETAILS
Location: 成都武侯区SKP D11155号
Chief Designer & Team: Mojo Wang | 赵思宇 | 巨思吉 | 菠萝
CAD Designer: 王欢
Photography: 形在建筑空间摄影-贺川
Furniture Supplier: 凡徳罗
Wall Crafting: 所是研造
Lighting: 熹曌照明
Plant: 肆禾木野
Area: 150 ㎡
Year: 2022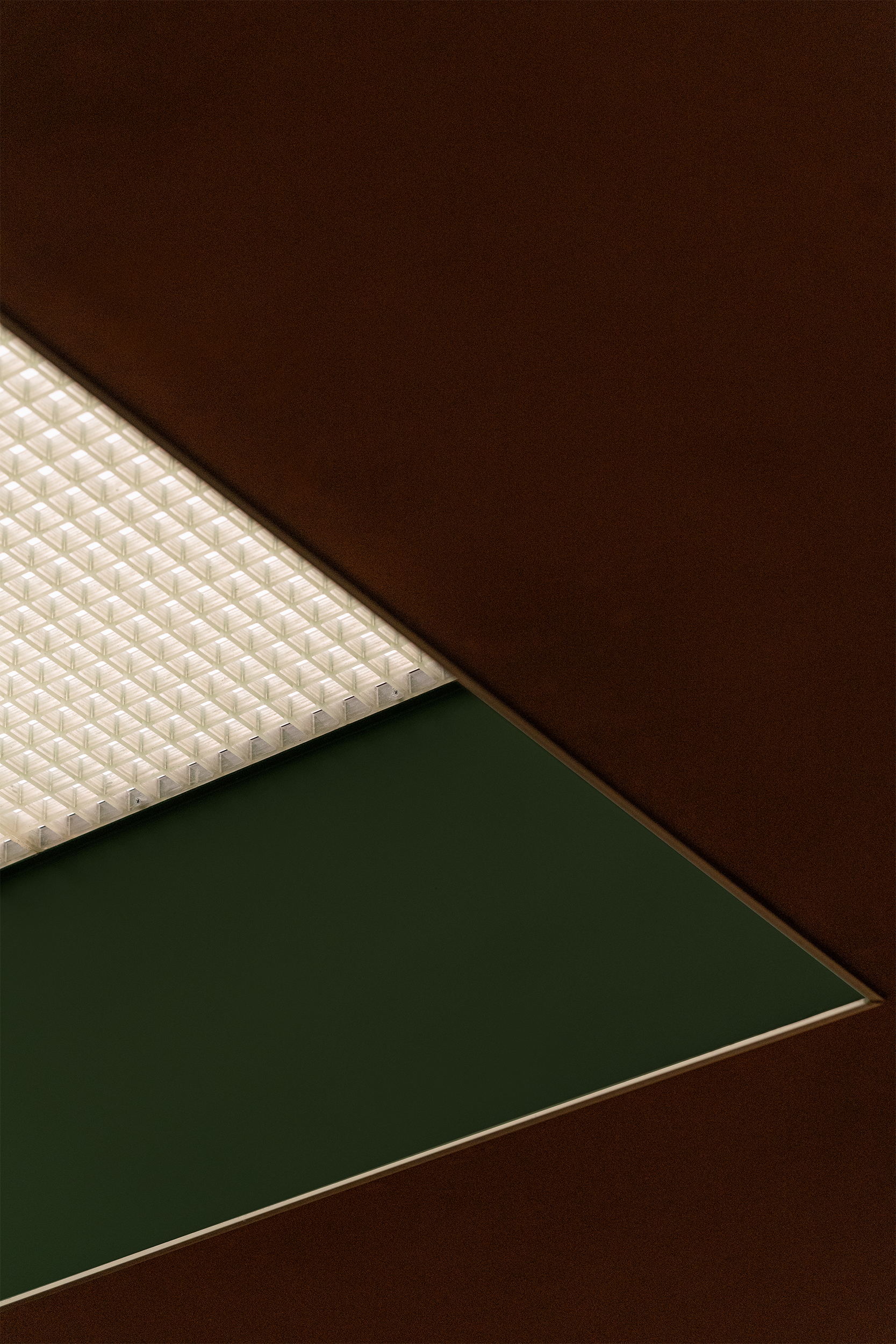 PROJECT OVERVIEW
「 茶 」
BY FARM(白福福)SKP店位于成都南門天府交子公园商圈核心区。
此商圈构建高端时尚的多元消费场景,也让这家店拥有注重品质的客户群体。
-
At the heart of the Jiaozi Park Financial Business District at South Gate of Chengdu,
BY FARM SKP Store boasts a customer group valuing quality as the business district creates
diversified high-end and fashionable scenarios for consumption.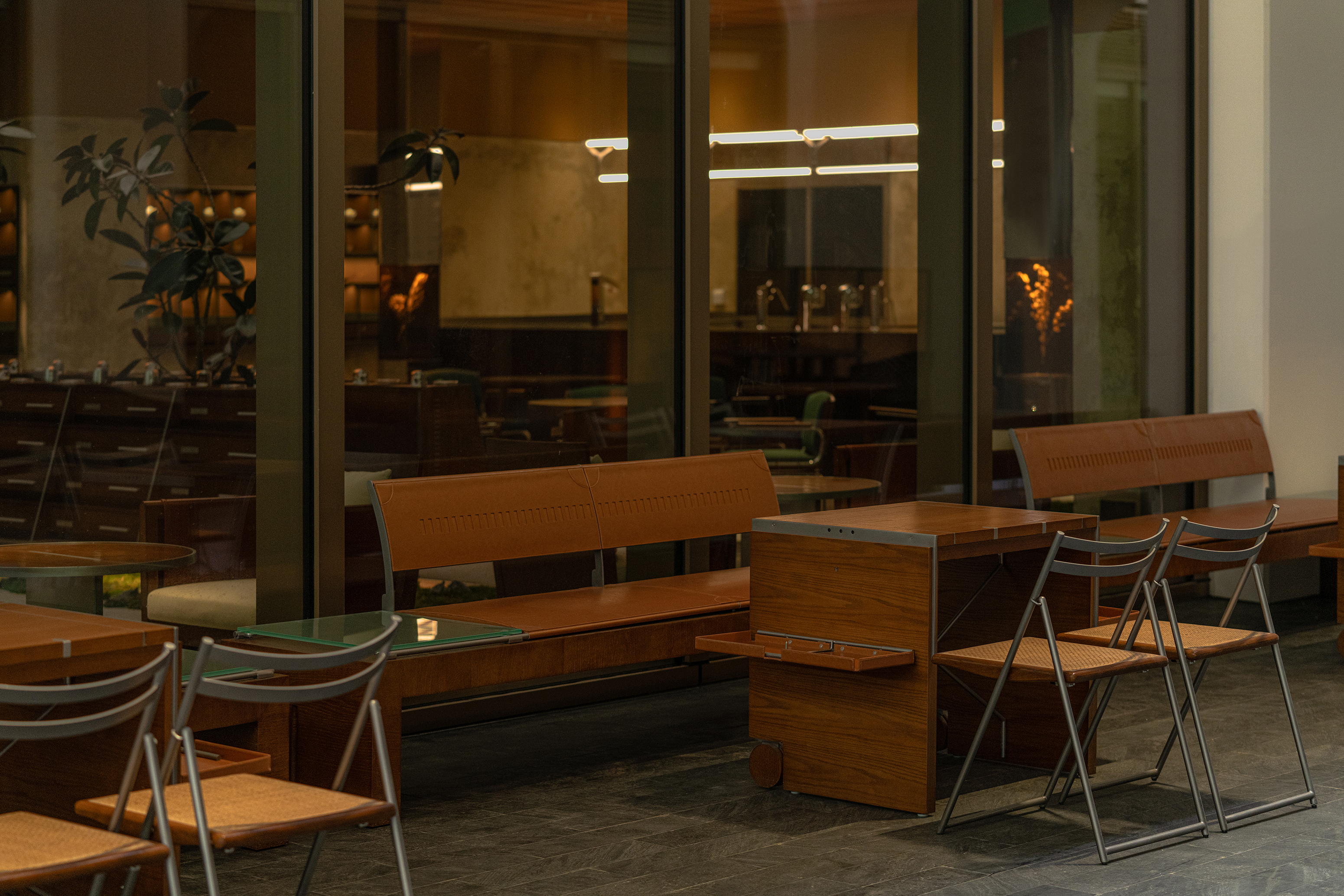 现如今,"茶" 文化以全新的形式再次浮现在大众眼前,茶饮不再是"古"的代名词,
融合了现代文化的"新"打动着各个消费年龄层,在市场进行推陈出新。
-
Now, "tea" culture emerges again before the public in a brand-new form. Tea is no longer a synonym for "antiquity", but attracts consumers of all ages
by integrating with the "novelty" of modern culture, developing the new through critical assimilation of the old in the market.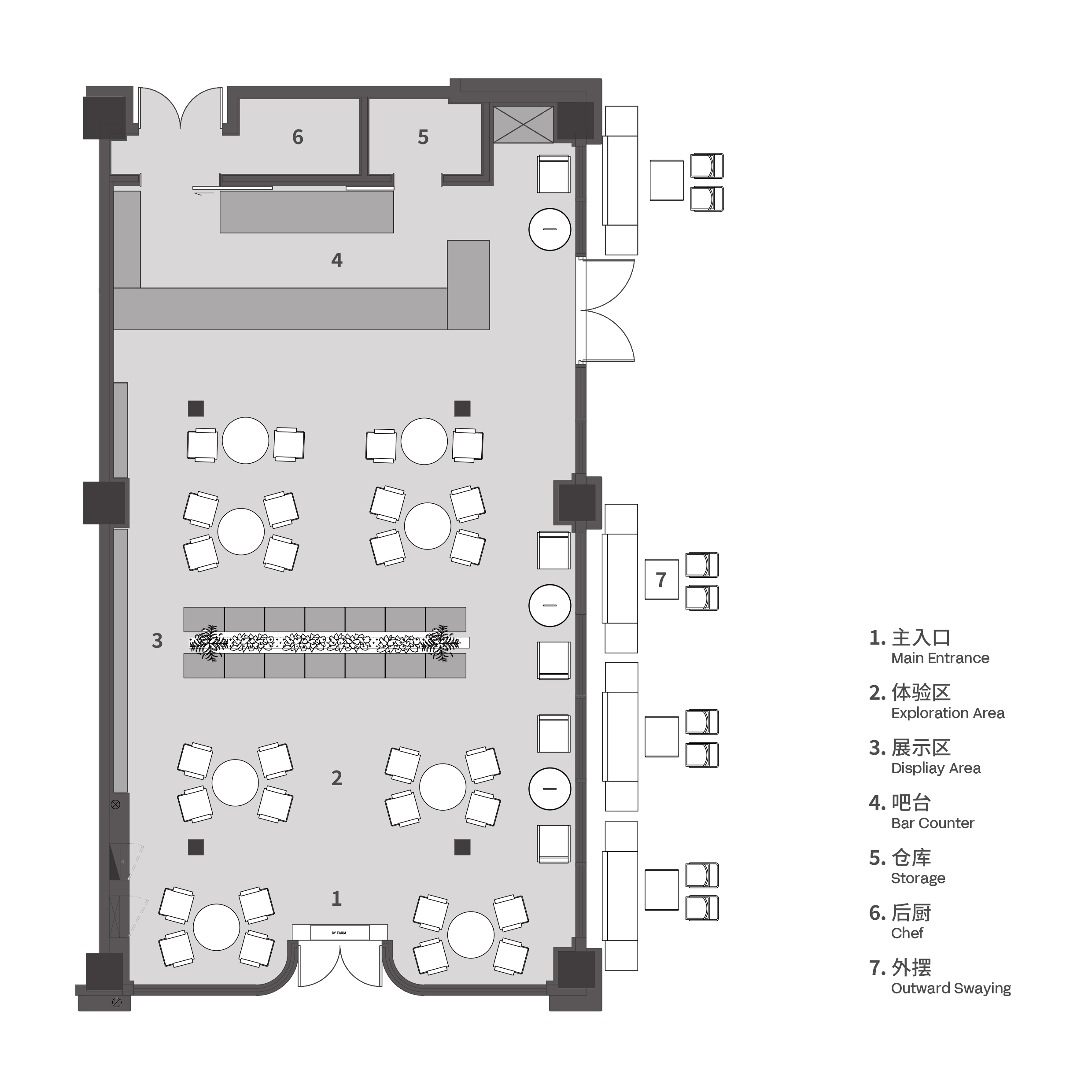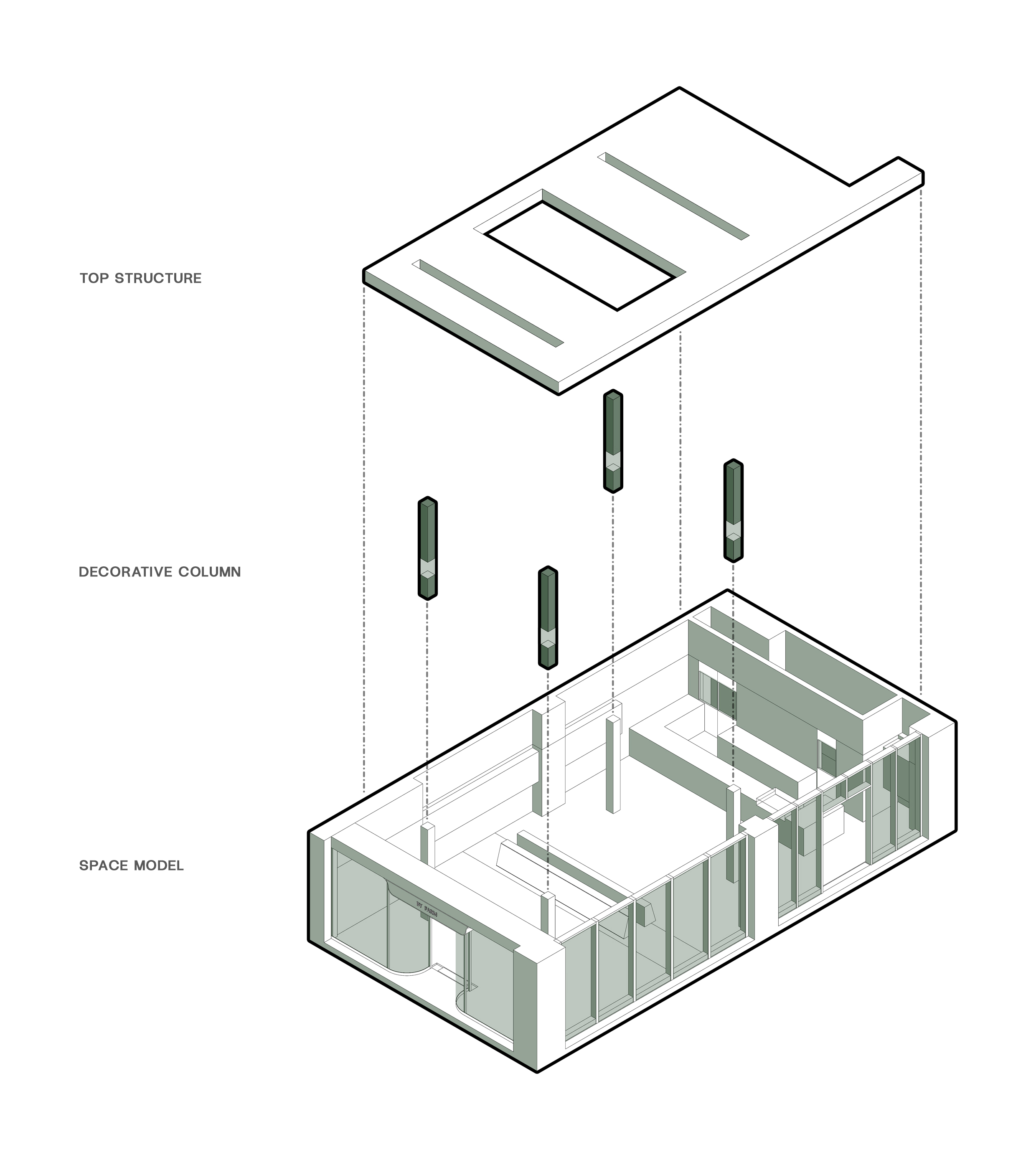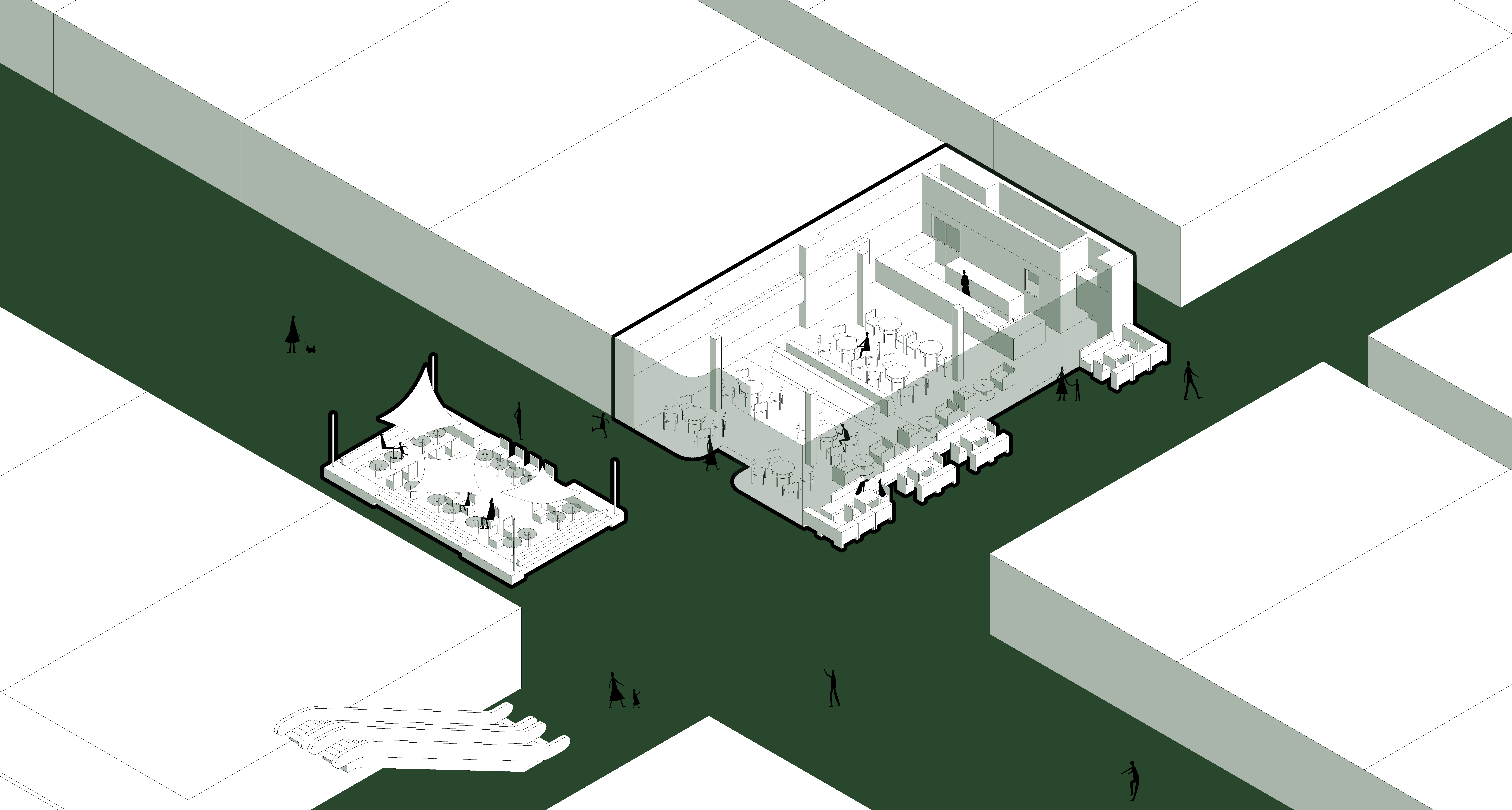 INTERIOR CONCEPT
「 空 」
整个平面空间提取了中国传统建筑的四水归堂理念,大小空间的围合以四根柱子进行区块划分,小空间的中庭天井寓意"水聚天心"。
把人与天衔接起来,再注入自然的元素,譬如苔藓、原石、琥珀、木纹,从而实现了人与自然的和谐统一。
-
The whole planar space is inspired by the concept of four streams converging at the courtyard in traditional Chinese architecture,
of which enclosed large and small spaces are divided by four pillars, with the atrium of the small space symbolizing
"water concentrated at the heart of the sky" and linking man and nature, into which natural elements such as moss,
original stone, amber and wood grain are injected then, thus achieving harmony between man and nature.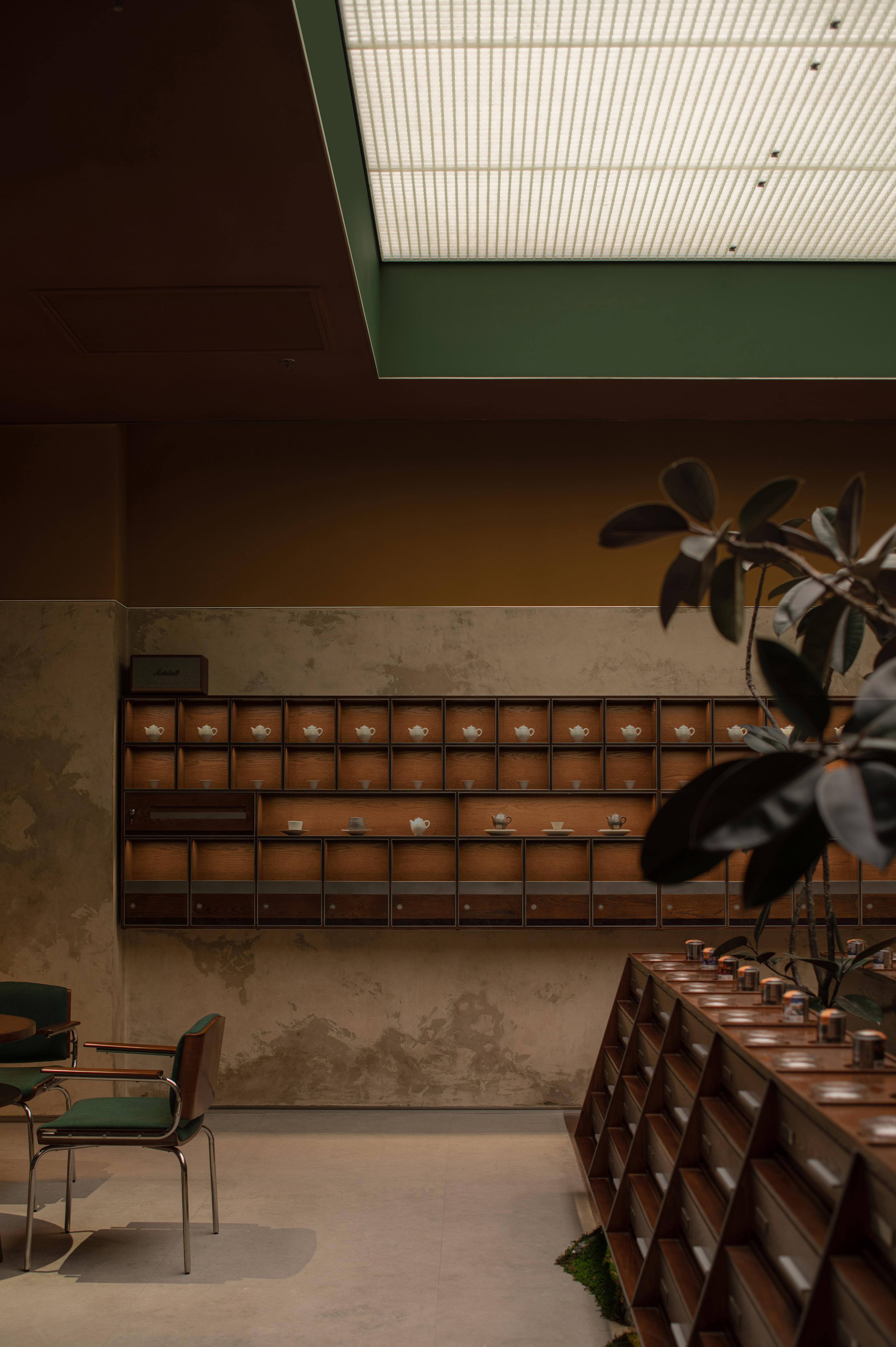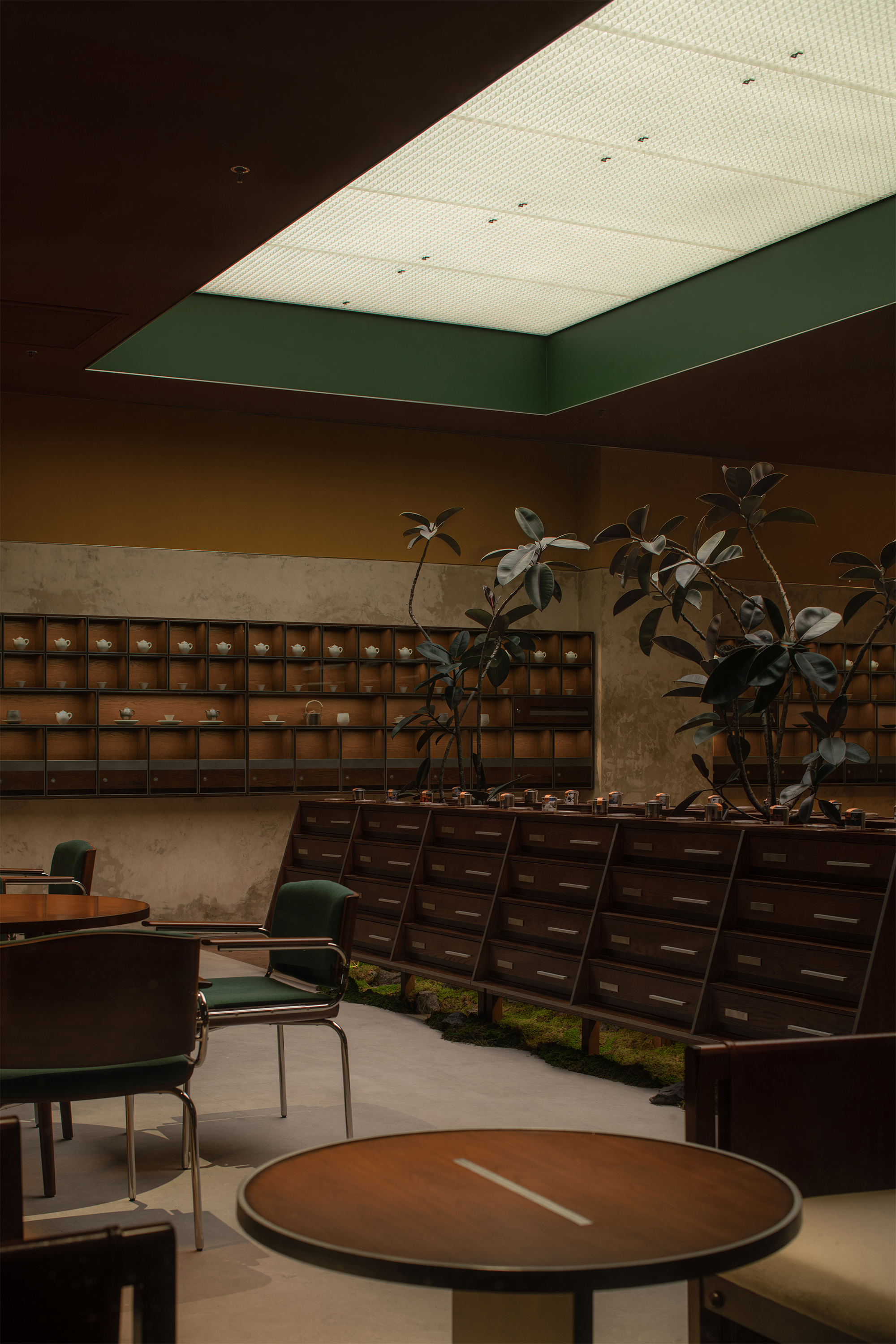 「 调 」
空间进行全新的风格尝试,区别于传统的中式空间,运用了复古色彩与原始质感的材料进行碰撞,
既呼应了茶的悠久文化又顺应了市场的新,也实现了温馨舒适自然的氛围感。
-
The spatial design is an attempt at a brand-new style. Different from traditional Chinese-style space,
the use of materials vintage in color and primitive in texture form a collision, to reflect the long-standing culture of tea,
adapt to the new market, as well as create a warm, comfortable and natural atmosphere.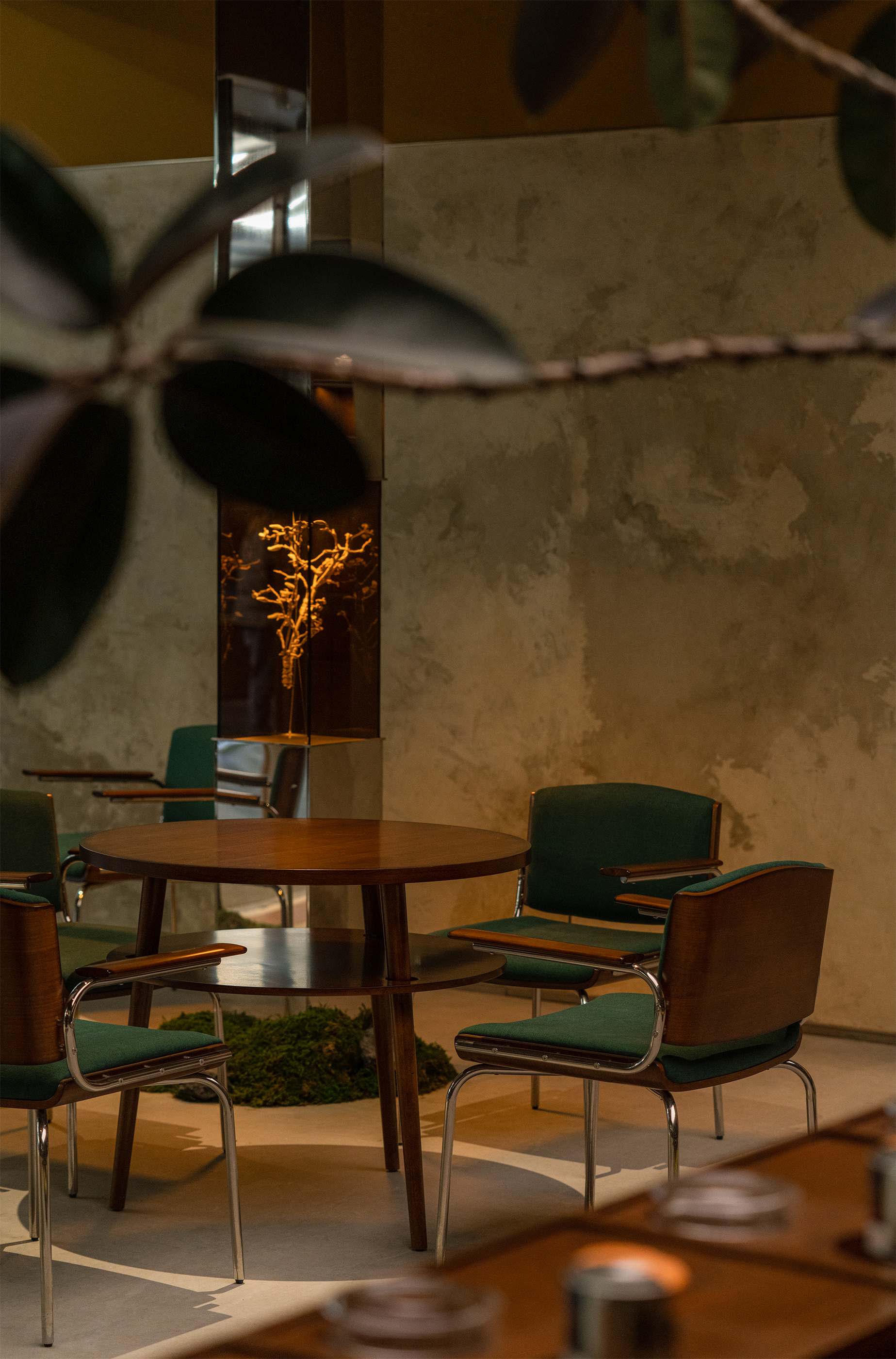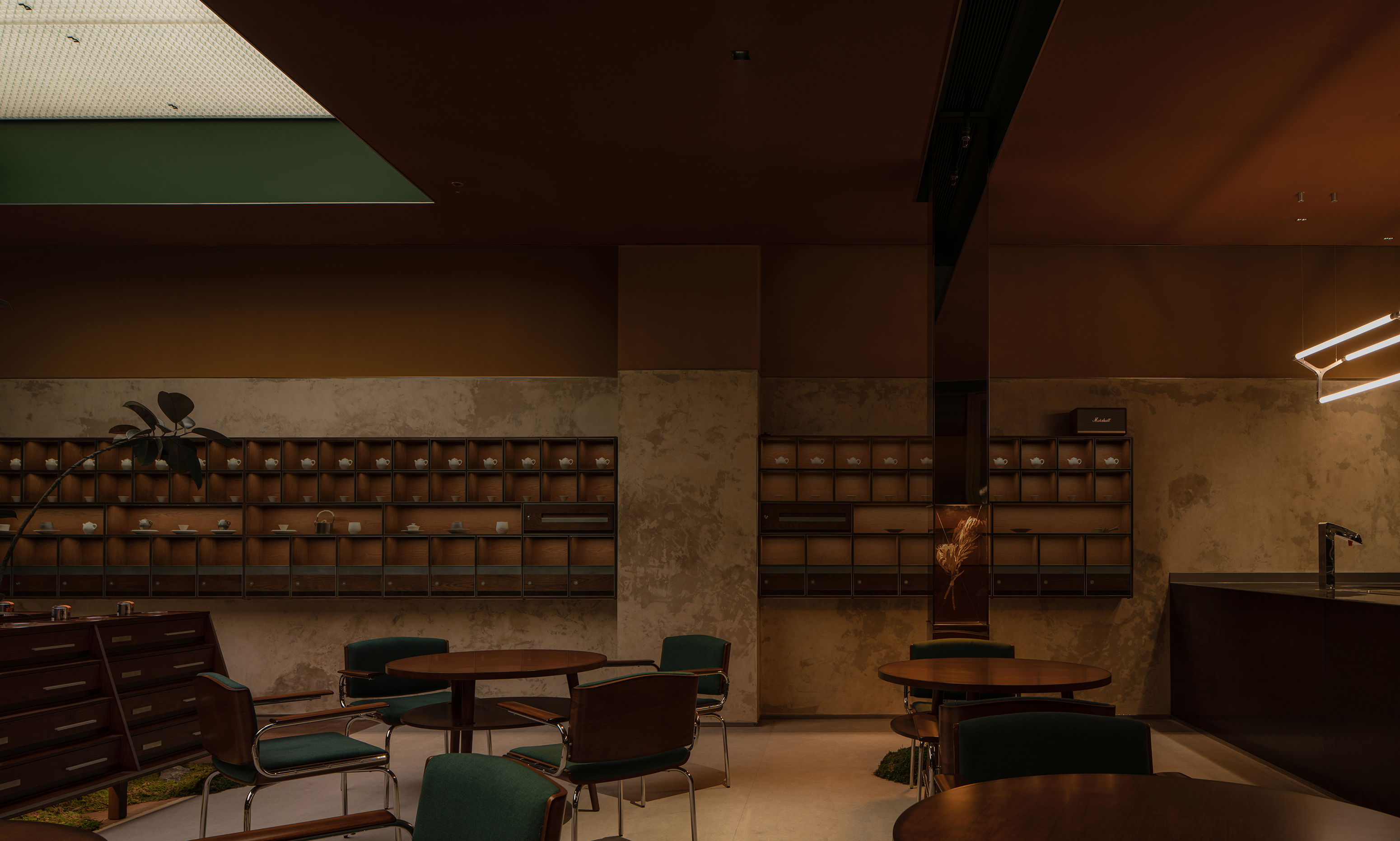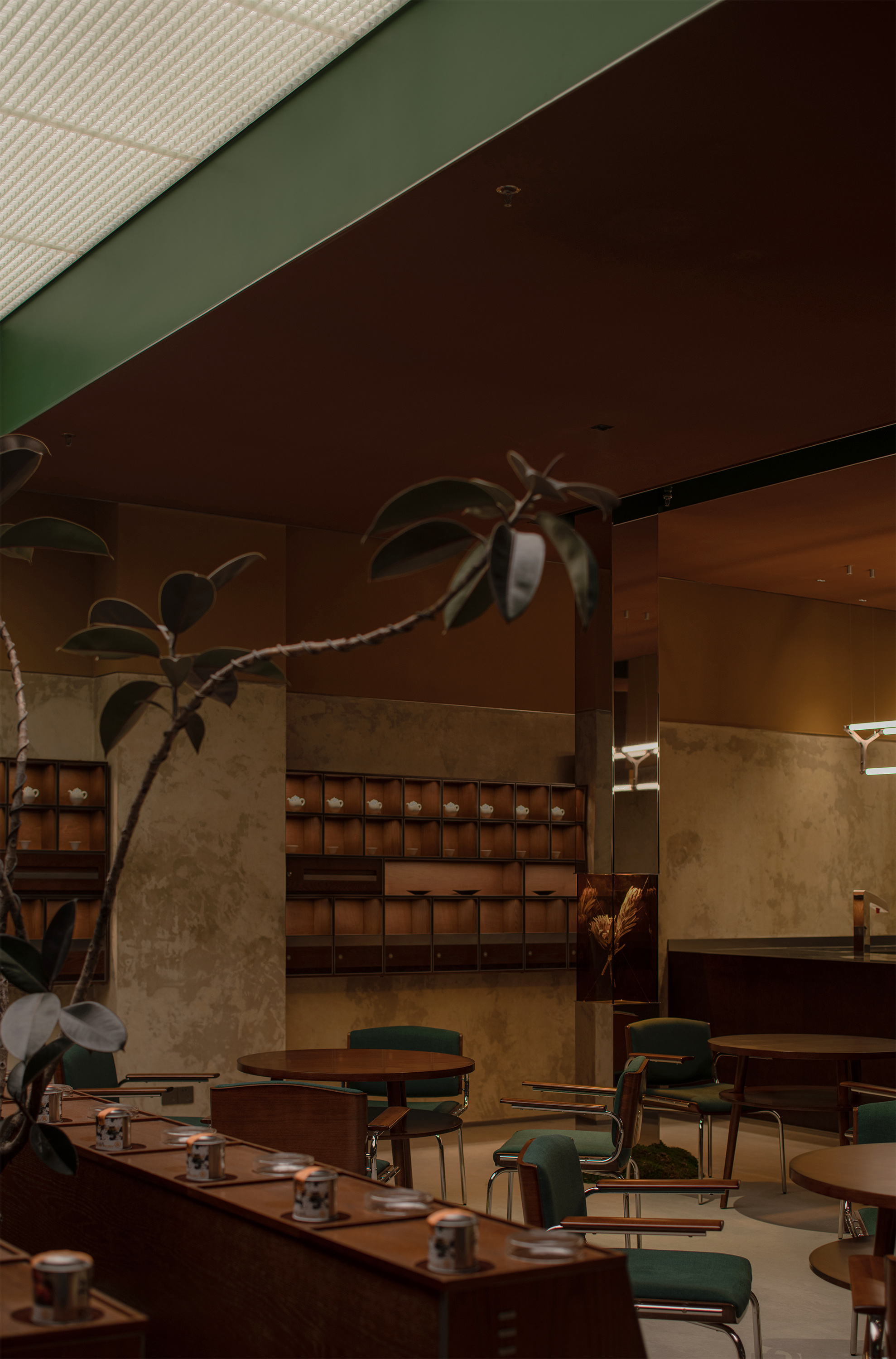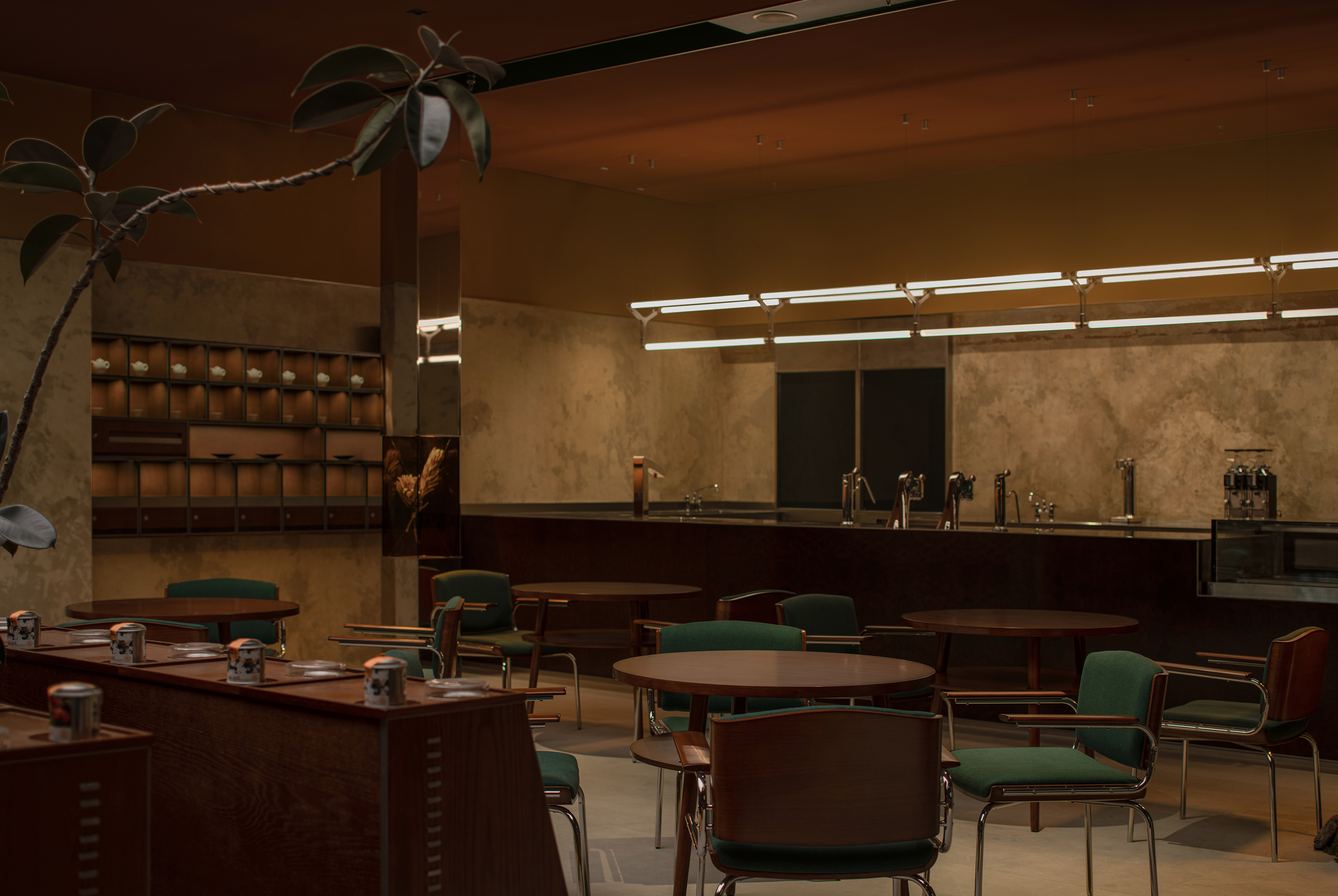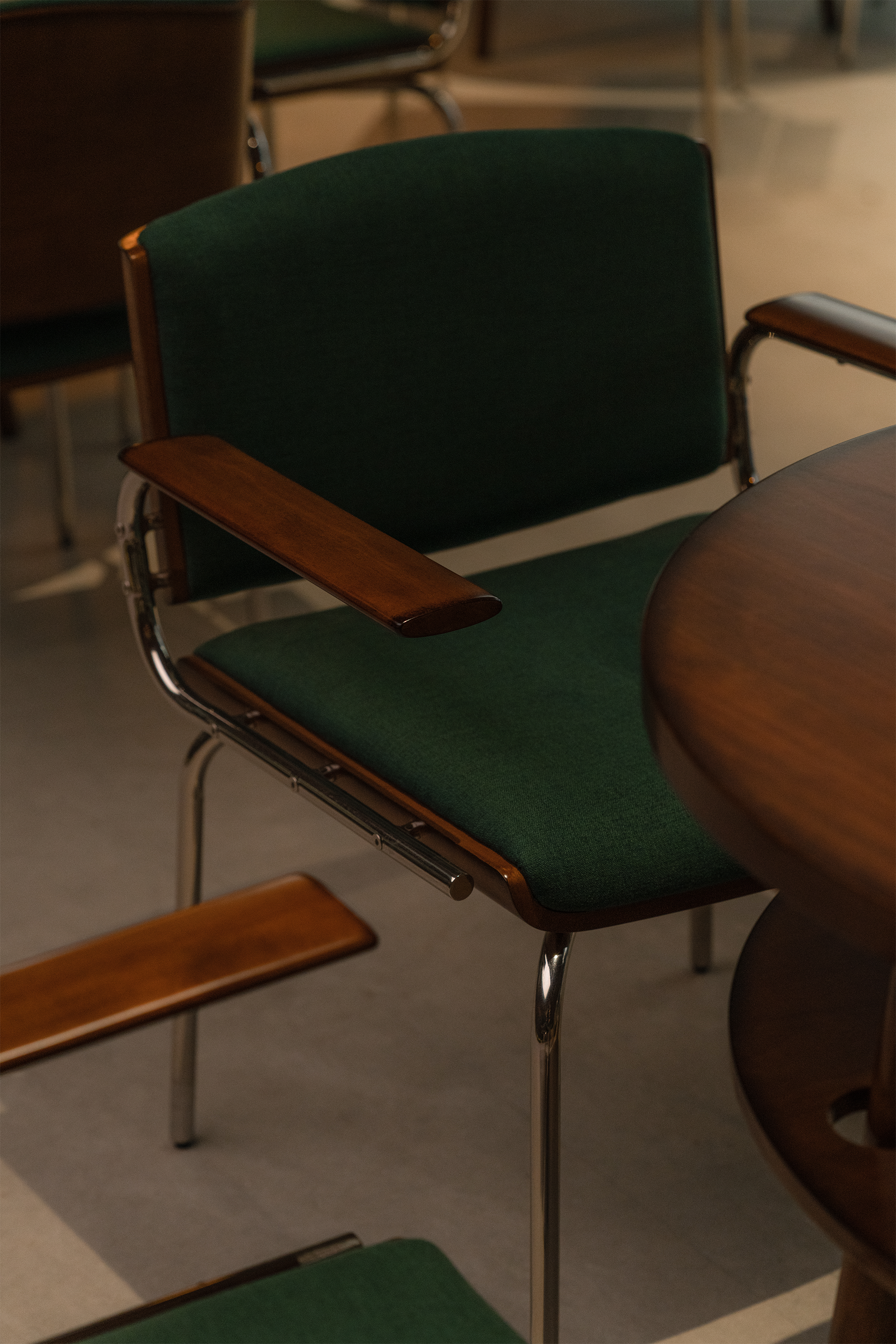 以品味自然之味,感受茶叶醇香为主旨,感受年轻、自然、不拘一格的BY FRAM。
体验茶式社交、沉浸复古美学。
-
To taste the taste of nature, feel the mellow tea as the theme, feel young, natural, eclectic BY FRAM.
Experience tea socializing and immerse yourself in retro aesthetics.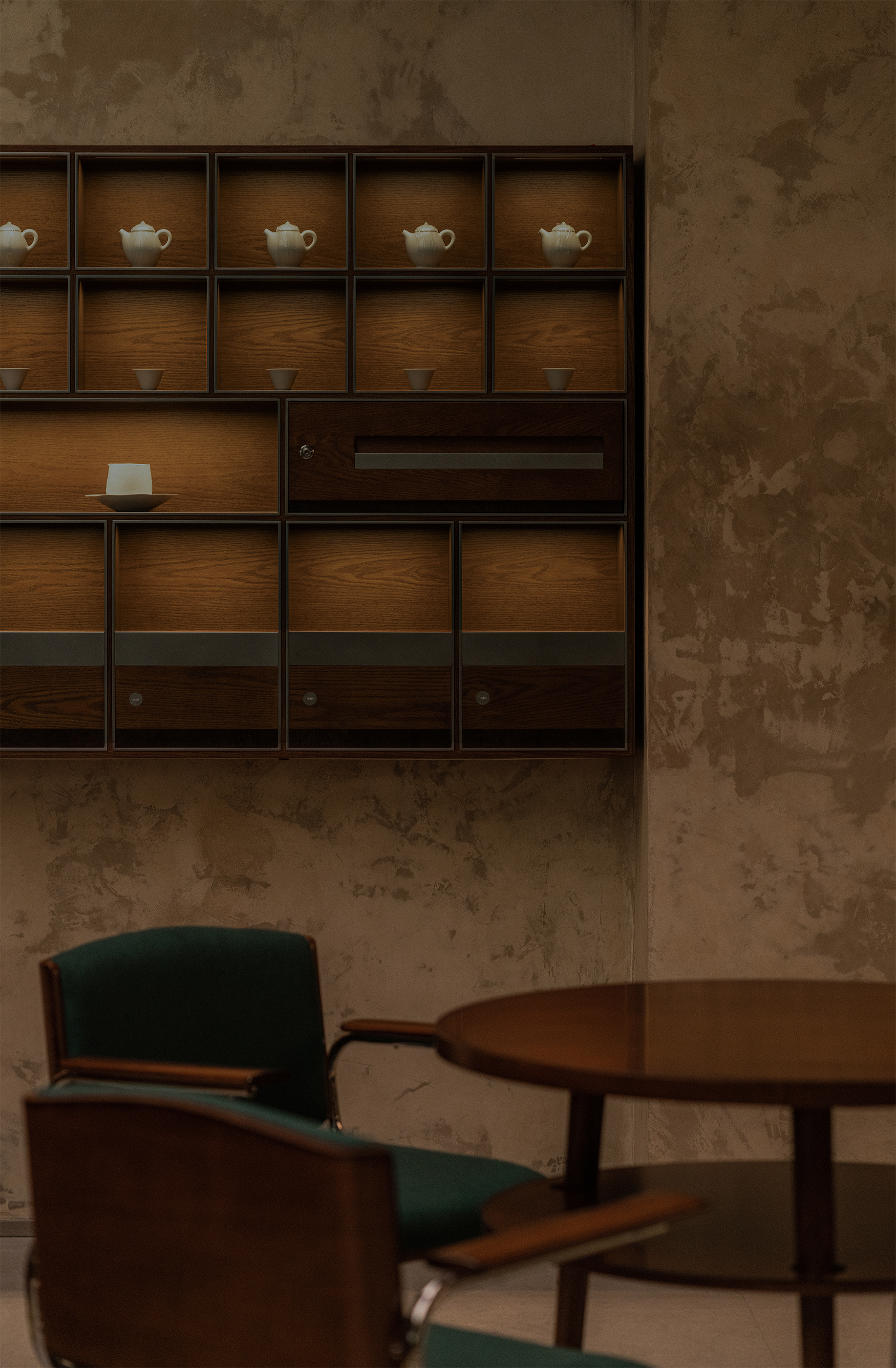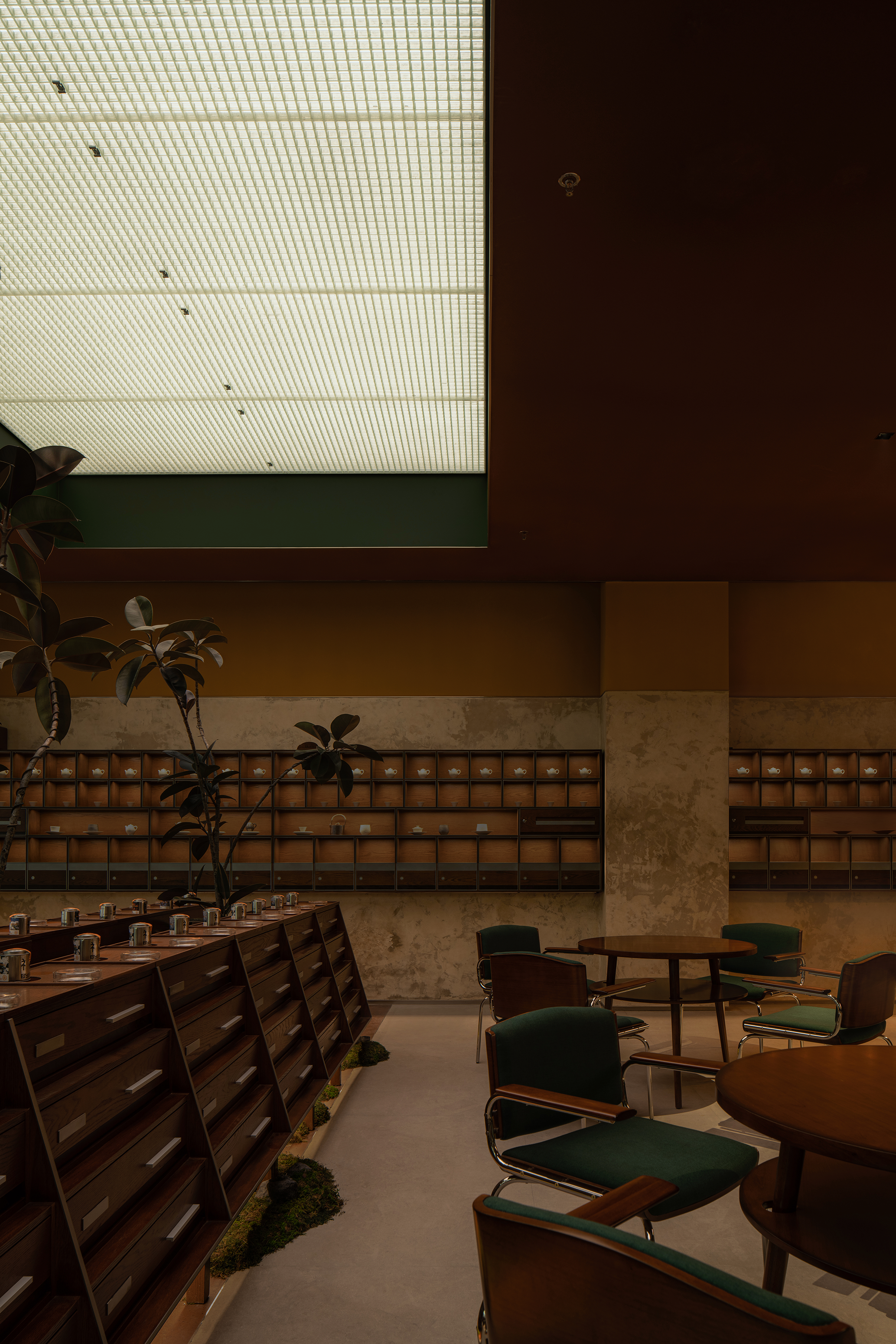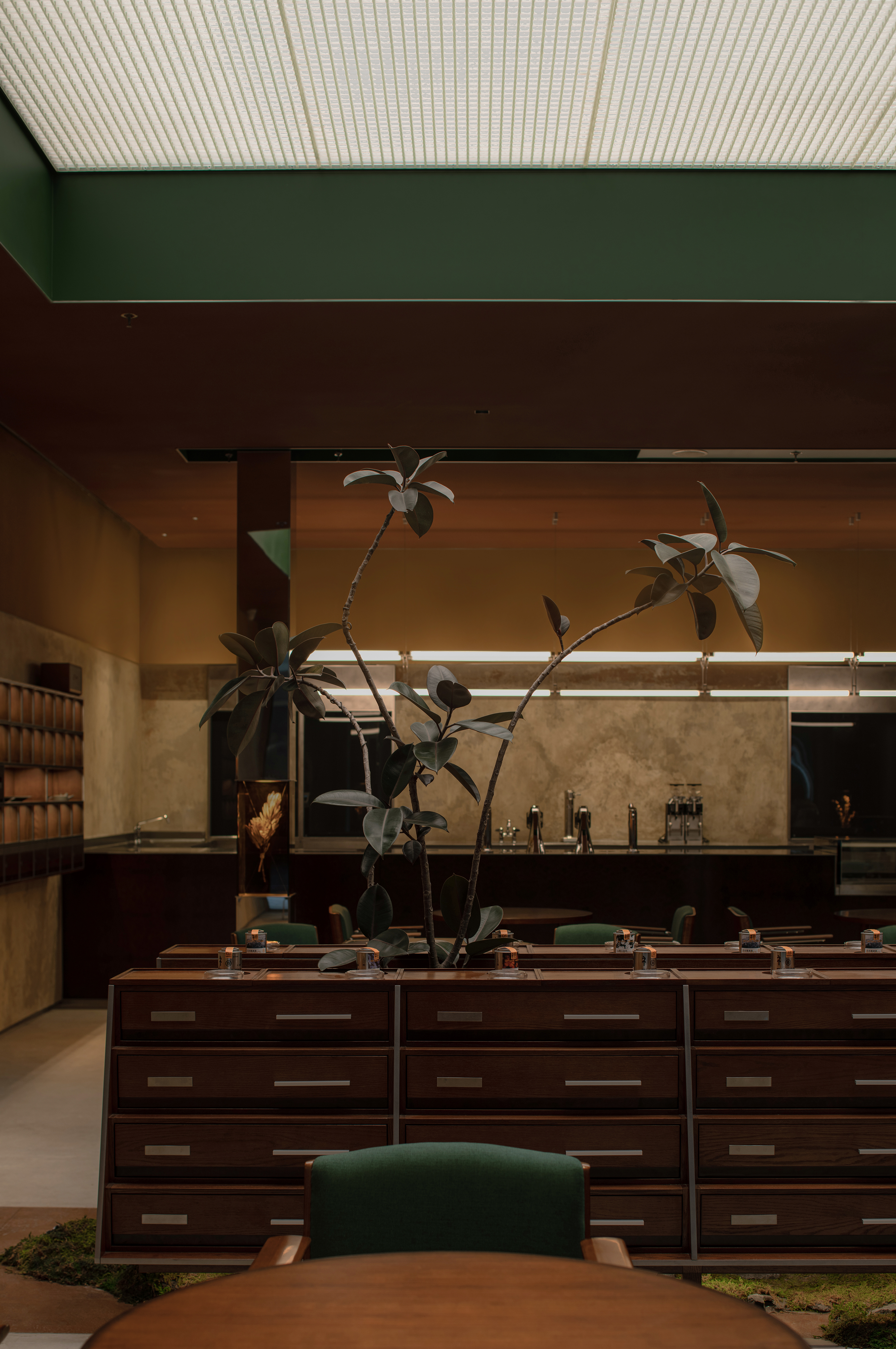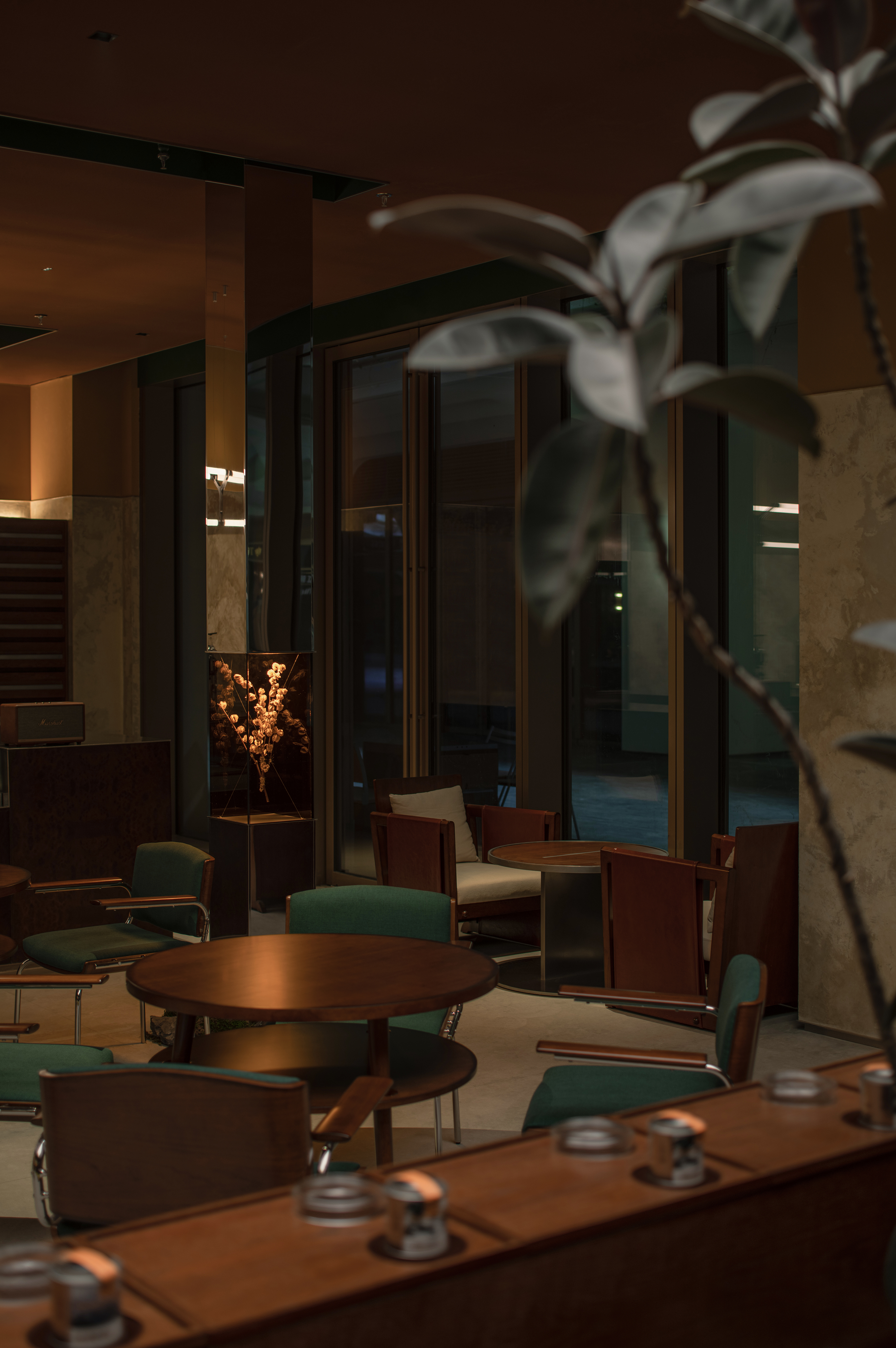 寂静于暖,蹁跹于茶。
-
Quiet and warm, Dance in tea.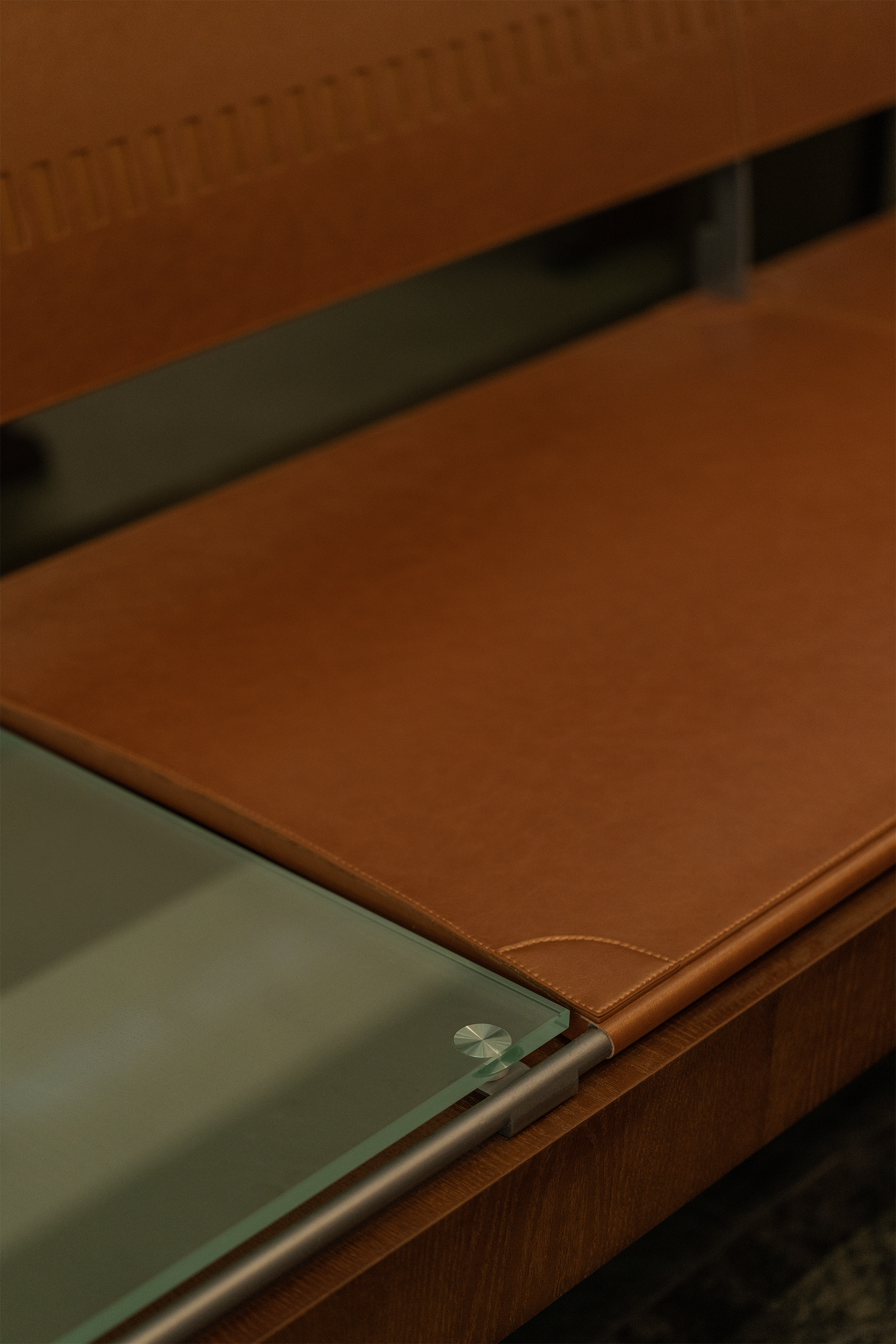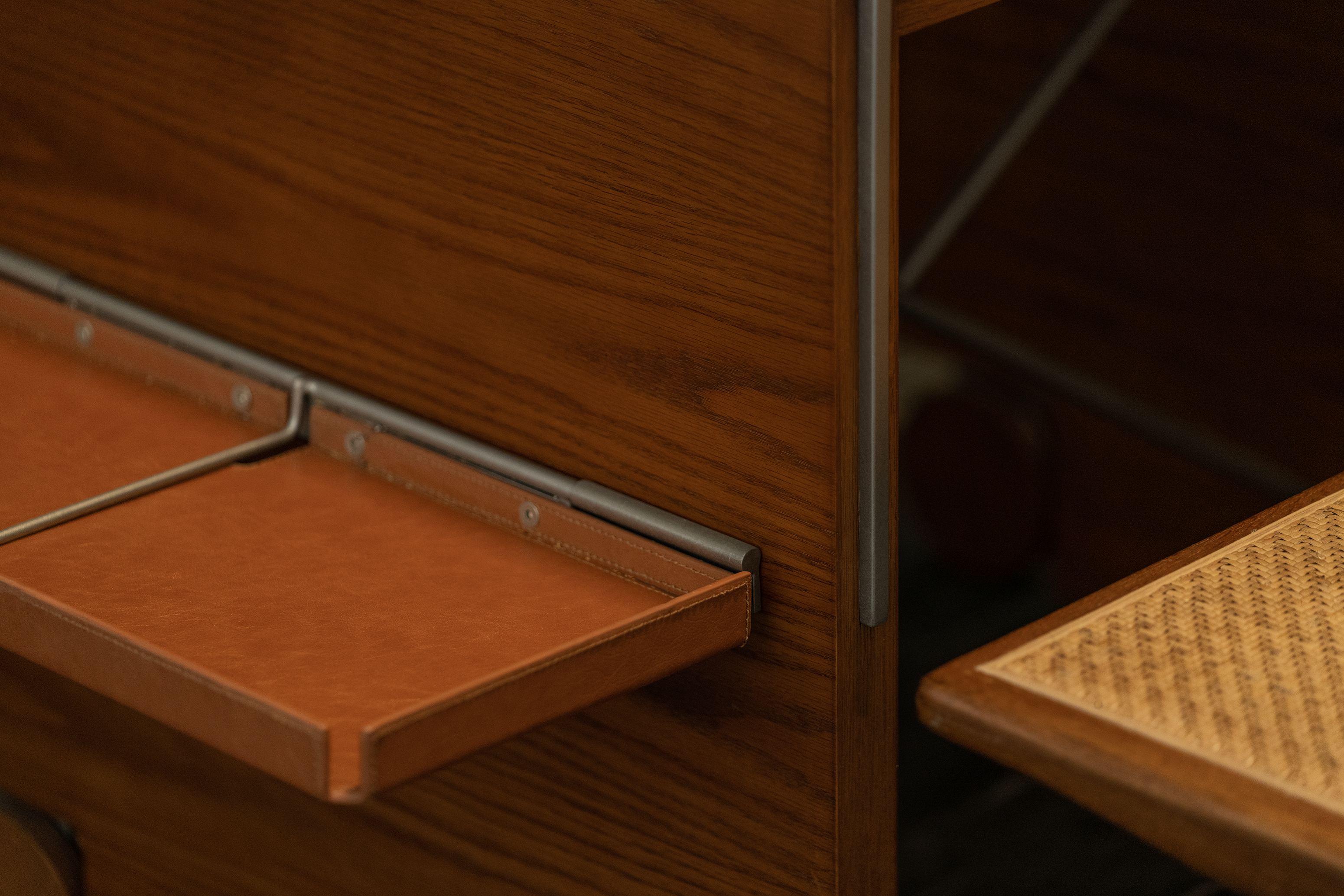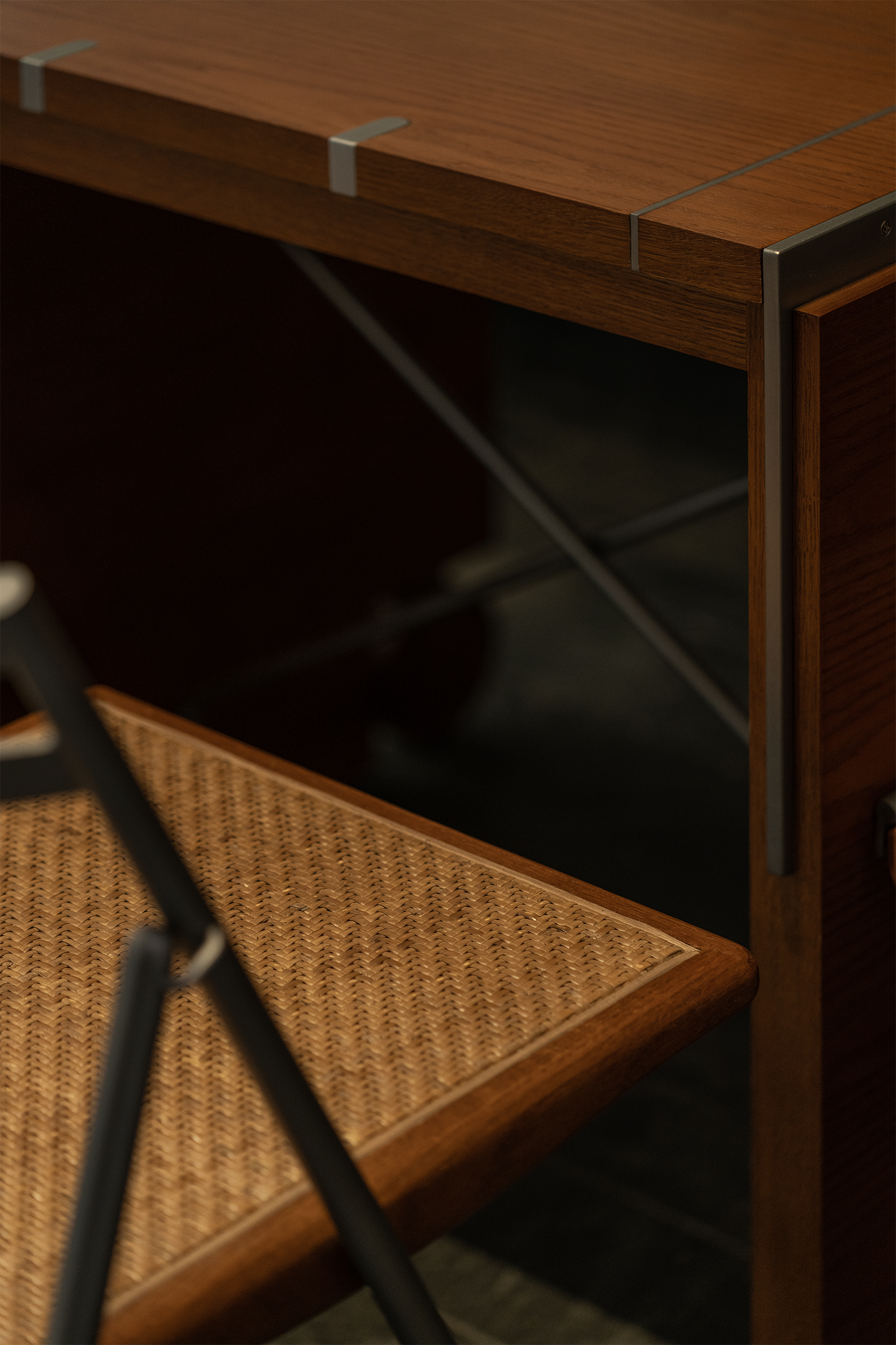 「 感 」
茶空间以触感、视觉及嗅觉进行空间分子构成。
-
The space for tea is made up of spatial components related to the senses of touch, vision and smell.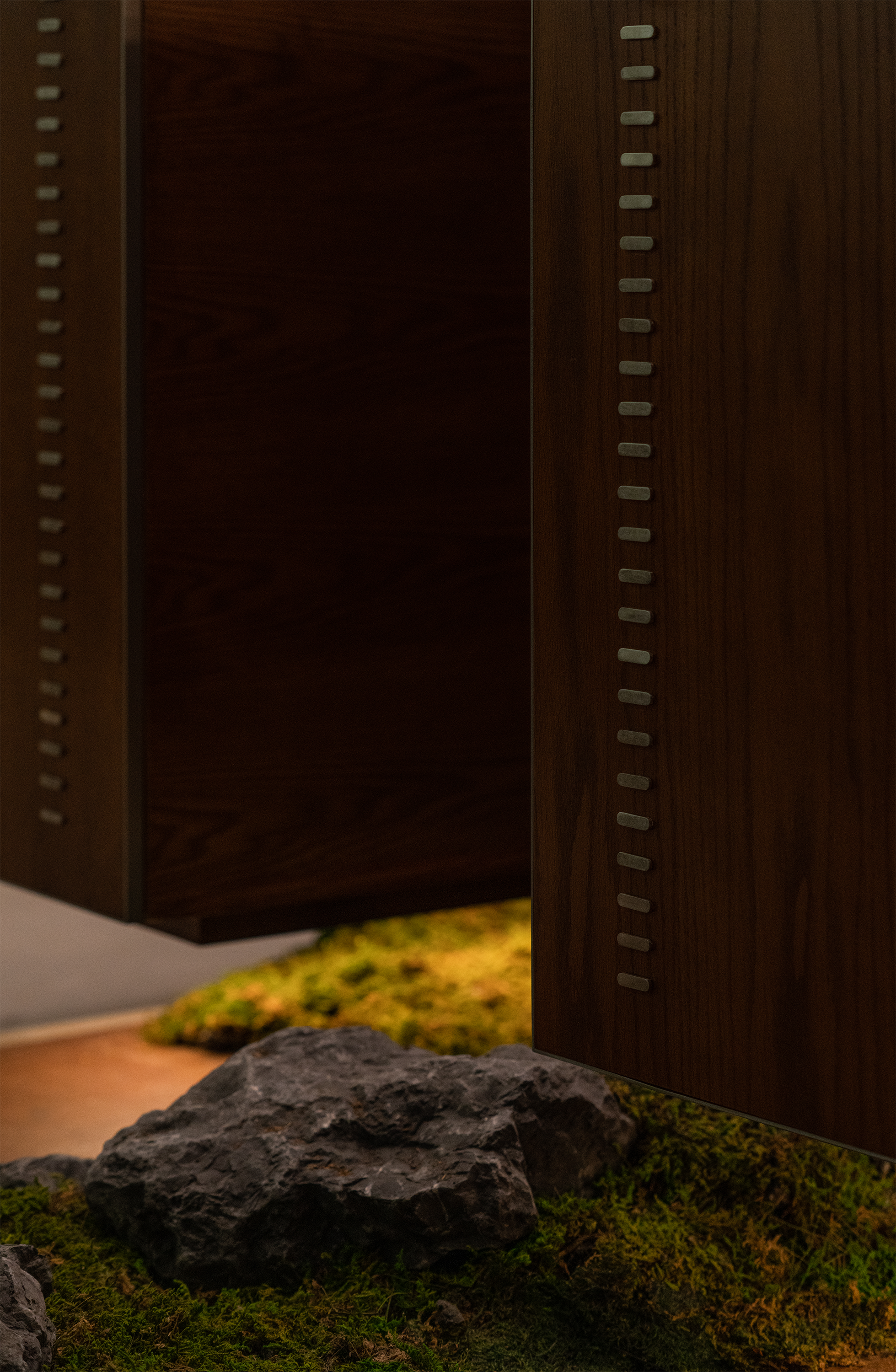 茶产品的排列展示述说茶的故事,自由的对产品的触碰,
增进人们对茶文化的更多了解。 空间以"坐下"进行品牌体验,舒适的感受"茶"文化的围绕。
-
The arrangement and display of tea products tell stories about tea, and people can touch products freely to learn more about tea culture.
In the space, people can "sit down" to experience the brand and feel the "tea" culture surrounding them comfortably.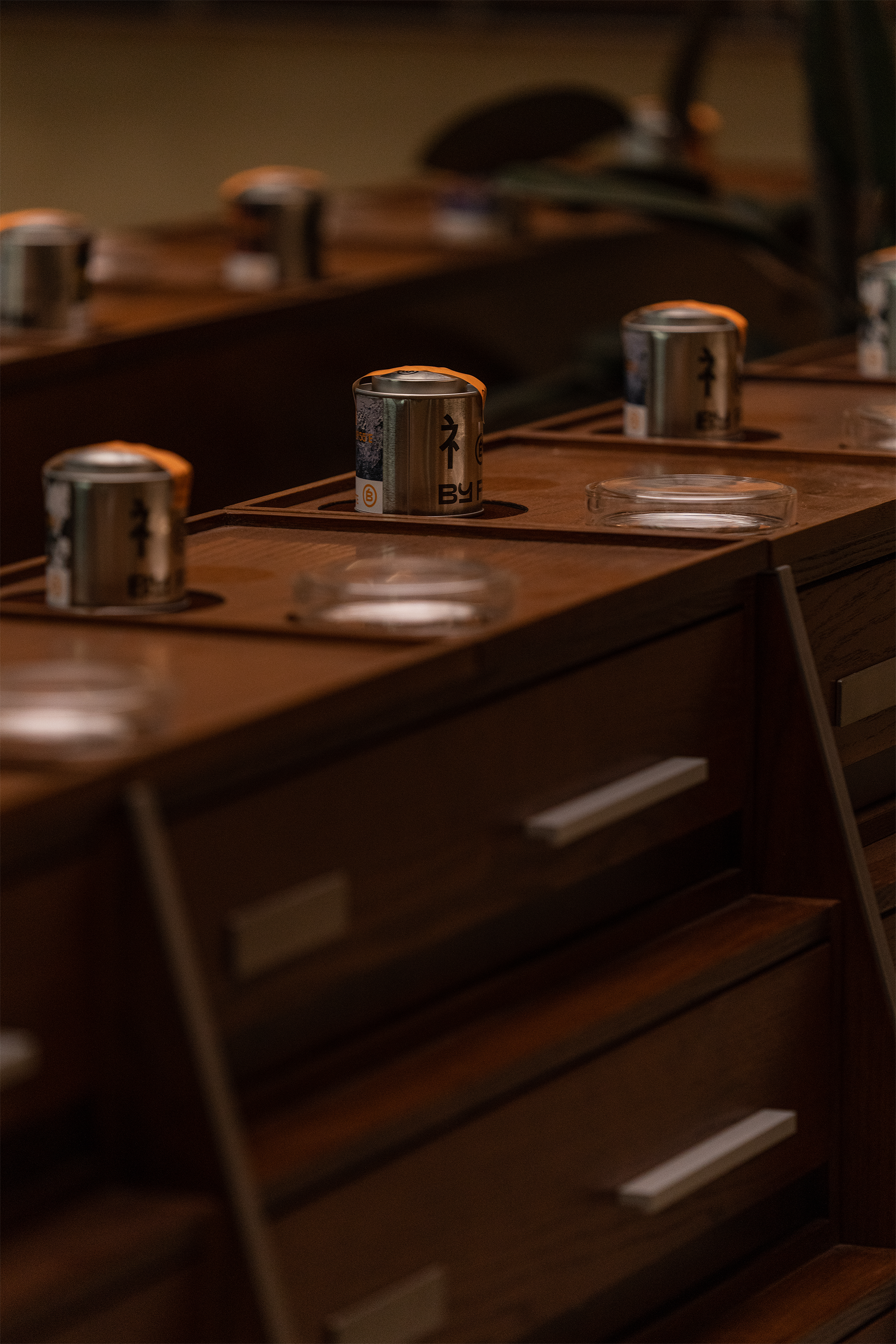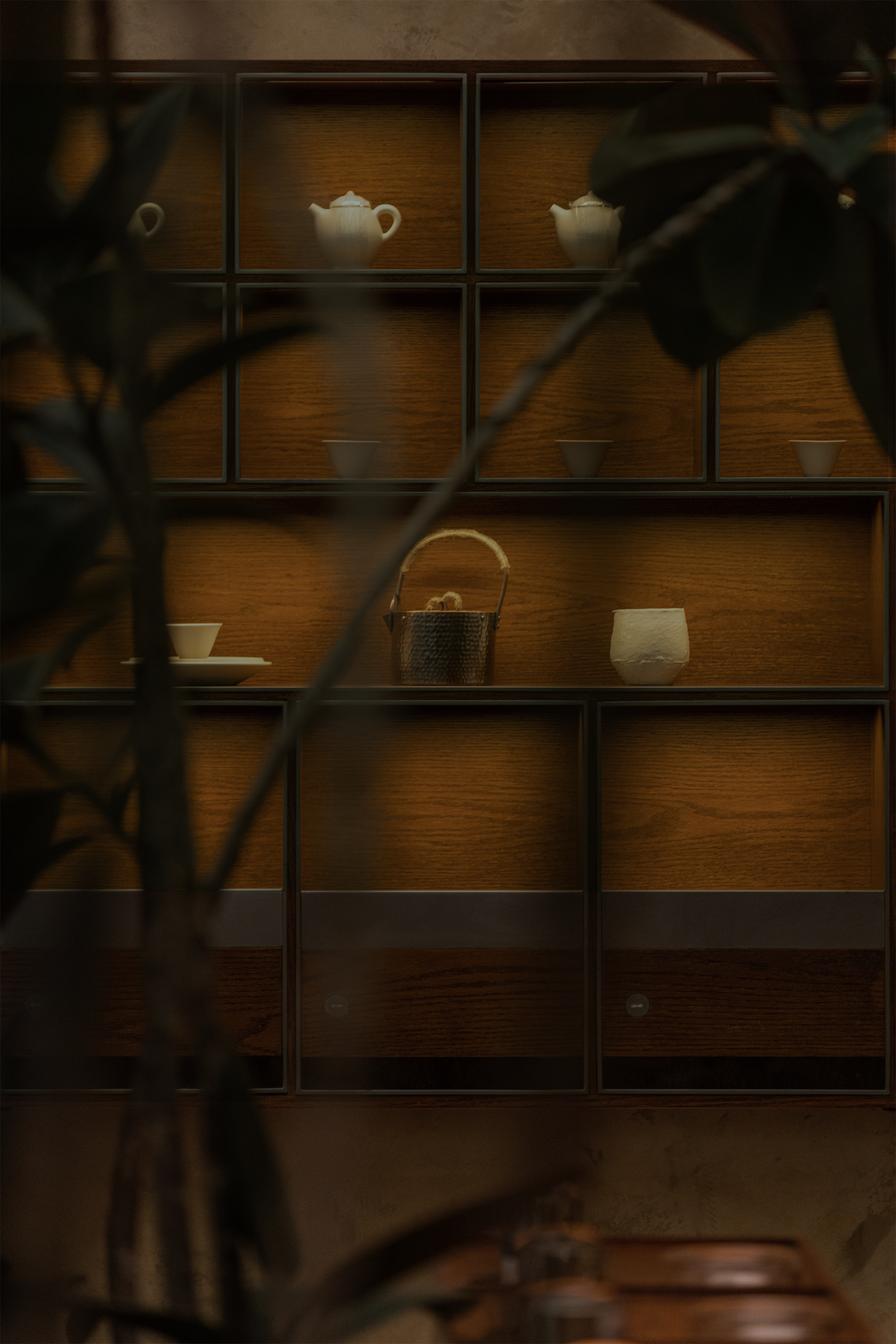 在有木质、苔藓、岩石、绿植的复古空间里,喝茶不再是一件正襟危坐的严肃事。
-
In the retro space of wood, moss, rocks and greenery, drinking tea is no longer a serious business.